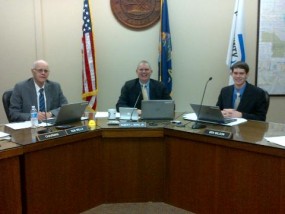 Riley County Jail inmates will be getting their dental services from a different provider after a motion was approved unanimously during Monday's county commission meeting.
This item was presented by Budget and Finance Officer, Johnette Shepek, as she had been contacted by Riley County Police Captain, Kurt Moldrup after hearing the current dental provider thought the medicaid rate was too high.  Shepek also heard comments about "needing to find a new dental provider".
Shepek inquired about using Konza Dental for the inmate dental services instead of the current provider.
Shepek requested the board make a motion to approve Konza as the new dental provider, which was approved unanimously.
——————
A few other items were approved during the meeting, including a conservation easement and a motion to allow County Health Department Director, Brenda Nickel to sign written testimony in support of house bill 2319 for the expansion of medicaid.
——————-
Construction began on Monday on Daniels Drive, as the road will be closed to through traffic from Pillsbury Crossing to Tabor Valley Road until June.