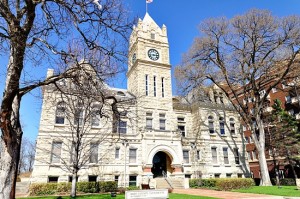 With a jury trial set for next week, Anthony Nichols appeared in Riley County District Court Thursday afternoon for a motion hearing.
The Kansas City man is charged in connection with the first degree murder case where John Burroughs (68) was found dead in his residence back in September of 2013.
Nichols appeared in Judge Meryl Wilson's courtroom alongside his attorney, Jeff Wicks.
Wicks first requested to continue the jury trial to a later date.  He stated that Nichols was willing to waive his right to a speedy trial and stated they need more time to review the case.  Judge Wilson did grant this request.
A motion to suppress the search of Nichols's phone was discussed next.  Wicks stated he felt it was inappropriate to have someone look through the phone during the original search warrant of Nichols's Kansas City apartment.  He felt a second search warrant should have been required to look through the phone.
Prosecuting State Attorney, Barry Disney argued this statement.  "I don't know any precedent, nor has the defendant cited anything, that says a separate warrant is needed."  Disney asked the judge to find that the warrant was valid because it did establish probable cause.
"There is no binding precedence in Kansas, or anywhere else I know of, requiring a search protocol for a search warrant", commented Disney.
Judge Wilson responded to both of the arguments.  "I do believe there is probable cause to search the phone.  For various reasons I do not believe that the warrant specified cell phones is a general warrant by any means.  I don't take this as a 'rummaging through belongings' situation."  Wilson chose to deny the defense's request.
Another motion was submitted by Wicks, in reference to Facebook postings and text messages.
Wicks said the prosecuting attorneys wanted to insinuate the postings were in reference to events of issue here, but it's the state's interpretations of the posts-which is asking the jury to speculate about the posts.
Disney argued, "I see no grounds for the defense to prohibit evidence because the jury could speculate".  He shared a few examples of posts and messages that would be used in the trial, as he feels they are relevant to the case.
Wicks came back by saying "if they [the state prosecuting attorneys]aren't offering the jurors the truth of the matter, they are offering them things on speculation".
After a few moments, Judge Wilson denied this request.  He did state the jury needed to see the full conversations during the trial in order to understand them in full context.
One last matter was discussed.  This was regarding stipulations about firearms.
The person who examined the firearms, allegedly used during the incident, accepted a job in Afghanistan.  That person's written comments will be read to the jury, and the person's supervisor will be called in to speak about firearms for the trial.
Nichols will face a motions hearing on July 14th at 10 a.m.  This will be prior to his jury trial, which was scheduled to begin on July 28th at 9 a.m.