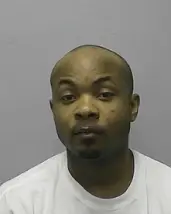 A Manhattan man will be spending 272 months — or 22 years and six months — behind bars for attempted 1st degree murder.
Samuel Dartez, 31, was sentenced Friday morning in the Riley County District Courthouse by Judge David Stutzman for the stabbing of a 27-year-old woman multiple times on Nov. 13, 2014, near the intersection of Juliette and Yuma streets.
Dartez was in a relationship with the woman and they share two children. He will also owe $25,000 in restitution after his sentence is served.
Dartez was scheduled for sentencing on Jan. 5, but that was delayed after he refused to leave his jail cell.
Friday morning, Dartez' defense — citing a recent mental evaluation — tried for a new trial and a motion for departure, but those were denied by Stutzman.
The mental health evaluation found Dartez to suffer from "paranoid personality disorder" and that his rough childhood was a factor. Dartez was taken from his home as a child due to his parent's history of incarceration and drug abuse. He was then moved with a grandparent, where the evaluation also said was an abusive environment.
Riley County attorney Barry Wilkerson said he had no doubt the findings in the mental health evaluation were true, but told Stutzman they didn't negate the fact a crime had occurred.
"It's unfortunate," Wilkerson said. "I have no doubt Mr. Dartez had trauma growing up. But 90 percent of the people in corrections have the same story."
Dartez's defense also tried to make a last-ditch effort to lessen the offense to attempted 2nd degree murder or aggravated battery, but Wilkerson countered the wounds suffered by the victim indicate otherwise, as the jury decided.
"We're all thankful the wounds weren't life-threatening," Wilkerson said.
Before Stutzman sentenced Dartez, he gave the defendant a chance to speak.
Dartez was slow and remorseful in his response.
"I don't know what to say," he said. "I committed a crime that I'll live with for the rest of my life. It just shouldn't have happened. There's nothing I can do or say to reverse the damage I've done.
"I'm sorry for what I did and what happened. I wish I could been a better person."
Stutzman told Dartez he appreciated his words and referenced his mental evaluation findings, telling the defendant "that's not a beginning I'd wish on anyone."
Still, Stutzman said there was no compelling evidence to overturn the jury's decision.