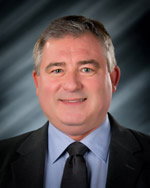 A week long interview process and four candidates later, USD 383 looks to be set to name Marvin Wade its new superintendent.
Wade's hire is contingent on an official vote to be held later this afternoon.
Wade, the third candidate to be announced in last weeks search, currently serves as superintendent of the Marshalltown Community School District in Iowa.
The Iowa district announced on its website that Wade has announced his resignation, effective June 30th.
KMAN's Andrew Shores will have more on Wade's hiring and from the USD 383 school board meeting, later this evening.