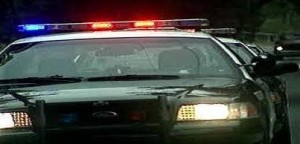 Updated 6 a.m. Wednesday:
While not officially connected to a law enforcement chase KMAN first told you about Tuesday night, two arrests appear to correspond with the location and timeframe of the earlier reported incident. Wednesday morning's Riley County Police arrest report indicates Jonathan Bruce, 21, and Shawn Sime, 36, both of St. George, were taken into custody during the six o'clock hour Tuesday evening on Tuttle Creek Boulevard.
Bruce's charges include fleeing and eluding, reckless driving, criminal damage to property, and operating without a valid license–with a$7,000 bond set.
Sime's bond is $3,000 with only criminal damage to property listed on his charges.
More information is expected later in the morning, although the arrests are listed as the same incident number as a reported fight in progress in the 800 block of Mission Circle.. RCPD Public Information Officer Mat Droge had told KMAN the quick chase Tuesday evening began in that location.
###
Two people are in custody following a chase involving Riley County law enforcement authorities reported at about 6 p.m. Tuesday. Riley County Police Public Information Officer Matthew Droge tells KMAN the chase began at Mission Court in the northeast area of Manhattan and continued to the intersection of Tuttle Creek Boulevard and Bluemont.
Droge indicates the call initially came in as an aggravated assault involving a firearm, with stop sticks deployed to stop the vehicle safely. The TCB/Bluemont intersection was closed for about five to 10 minutes due to the possible weapon involvement.
Two people were taken into custody and more information will be available Wednesday morning. Droge tells KMAN the arrests were not connected to a Junction City case involving the discovery of a body earlier in the day.