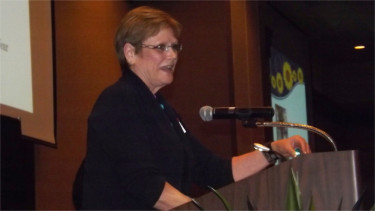 Two local community members were honored at the Manhattan Area Chamber of Commerce's 91st Annual Meeting and Banquet Friday night in the Manhattan Conference Center inside the Hilton Garden Inn.
The chamber awarded Rod Harms as its 2015 C. Clyde Jones Volunteer of the Year and Jan Miller was honored as the 2015 Lud Fiser Citizen of the Year award winner.
Miller owns Steve's Floral, a business originally began by her brother, opened in Marysville in 1983. While she was attending classes at Cloud County Community College and K-State, she did design work for the shop.
In 1987 the store expanded to Manhattan, coinciding with the opening of the mall. In 1990, she became the owner of the shop – and several years later, purchased the building the shop is located in.
She is serving her third term on the Chamber board.
"I was so surprised, I literally had no idea, but I am so happy and so honored" she said after the banquet. "I always think, 'Well, we're probably going to have another guy in the community who is going to get recognized.'
"I never dreamt No. 1, that it would be a woman, and I never, ever, dreamt it was going to be me."
Harms was recognized for his work with the Wildcat Creek Watershed and following the June 2011 flood, he was named its representative to the County/City Wildcat Creek Working Group.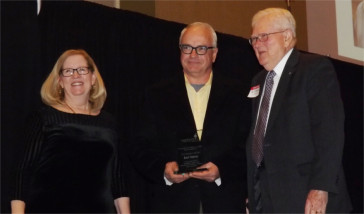 He has also served on the Attractions Committee for the Flint Hills Discovery Center. Harms is also an active member of Konza Rotary, where he has worked in raising funds in support of their signature project, Water Matters Day.
Harms most recently completed a year's commitment as the Executive Director of the Aggieville Business Association and also keeps an eye out for misplaced Green Apple Bikes, returning them to their stations.
"Well, I'm shocked," he said. "There's so many deserving people in Manhattan and I'm extremely surprised."
Harms advice for anyone looking to do their part when it comes to community volunteer work was simple: just look around.
"Just follow the lead of others," he said. "When you see someone doing something good that you appreciate, ask if you can help. That's what I did and it's a great community to serve with others in."
Also, a proclamation to recognize Knowledge Based Economic Development, or KBED, was signed by local partners, including the Chamber, City of Manhattan mayor Karen McCulloh, K-State president Kirk Schulz and by Chamber president Lyle Butler.
The proclamation sets a goal of creating 5,000 new jobs in the area within the next 20 years, with an associated annual payroll and operating budget of $450 million.