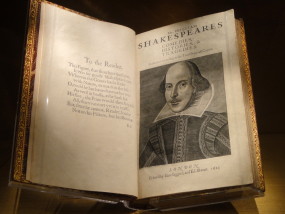 A nearly 400-year-old collection of William Shakespeare's plays is making a stop in Manhattan.
An exhibition featuring a "First Folio" of the Bard's plays goes on display Thursday at Kansas State University. The exhibit last through the end of the month.
The folio was assembled by two of Shakespeare's actors in 1623 and is an original printing of the first collected edition of Shakespeare's plays. Included are plays such as "Macbeth," `'Julius Caesar" and "The Tempest."
Of about 750 copies made originally, it's estimated 233 remain.
One site in each of the 50 states, the District of Columbia and Puerto Rico was chosen to host the traveling exhibit.
The tour is organized by the Folger Shakespeare Library, in partnership with the Cincinnati Museum Center and the American Library Association