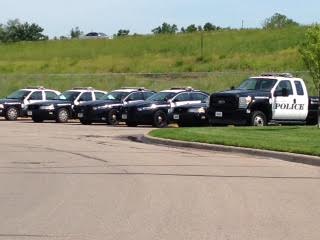 Riley County Emergency crews responded to a vehicle collision at the intersection of Claflin Road and Seth Child Road in Manhattan Monday afternoon  at about 1:50 PM. Riley County Police Officers found the collision occurred when a 2009 Pontiac Vibe, driven by Sherri Slaughter, 42, of Junction City collided with a 2006 Harley-Davidson Motorcycle, driven by  Alexandro Rascon, 19, of Manhattan.
Rascon was ejected from his motorcycle as a result of this collision and ultimately transported to Via Christi Hospital for medical care. A citation for improper turn was issued to Slaughter as a result of this collision.
###
Police in Riley County are again warning community members of an over-the-phone scam in the area. Police say a currently unknown male and female have posed as Riley County Police Department employees over the phone and have demanded money in the form of gift cards in order to settle warrants and summons.
 RCPD does not conduct business in this way and asks that anyone receiving these calls to not give personal or financial information out over the phone.
###
Police in Riley County arrested a Manhattan woman on a no bond warrant the end of last week. Due to the long holiday weekend, RCPD has just announced the arrest of Margarita Clark, 43, while at the Riley County Police Department Friday at approximately 7:00 PM.
Clark was arrested on the offense of probation violation which was listed on a warrant from Riley County. She was given "no bond" in connection with the warrant which had an original offense of possession of Hydrocodone.
###
As earlier reported by KMAN,  Leon Houk, 31, of Manhattan was arrested by the Riley County Police Department while in the 500 block of Colorado Street this past long holiday weekend.. Houk was arrested on the offense of possession of substance or illegal drugs, driving while license is cancelled, suspended, or revoked, and not operating a vehicle with an ignition interlock device.
Houk's bond was set at $6,000.
###
Riley County Police arrested Leann Blancho, 30, of Manhattan on a warrant with the offense of failure to appear which originated in Clay County, Kansas. Blancho's warrant was served Monday at approximately 9:20 AM while Blancho was at  the Riley County Police Department. Blancho's bond was set at  $5,000.
###
A report for theft was filed in the 2100 block of Knox Circle in Manhattan Monday at about 8:00 AM for an incident that occurred the prior night. Riley County Police investigating the theft listed Odina Meier, 43, and  Mark Meier, 45, of Manhattan as the victims after a light blue 2010 Suzuki Kizashi with Kansas tags, valued at $7,325 was removed without permission
The vehicle has a passenger-side headlamp that is defective as well as a dent to the front fender. If you have information about this vehicle theft you're asked to contact RCPD at 537-2112 or the Manhattan Riley County Crime Stoppers at 539-7777.