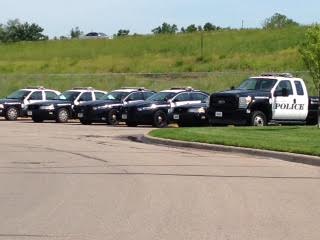 Not much more information Monday involving a Riley County Police arrest of a Manhattan man Saturday afternoon for an incident involving arson and theft.
As KMAN announced Sunday, Donnie Hill, 43, was taken into custody at the Riley County Law Enforcement Center on Seth Child and he was charged with arson of a dwelling and theft of property. The arson charge is related to a fire at 615 Yuma St. that KMAN first reported Feb. 12th and Hill is the same man who was first found near the house with severe lacerations to his arm.
Bond was set at $5,000.
###
As earlier reported on KMAN, Riley County Police arrested Clinton Thompson, 27, of Topeka while he was at the Riley County Police Department this past Friday at approximately 4:55 PM. Thompson was arrested on the offense of theft by deception and given a bond of $7,000. Monday's activity report indicates This arrest stemmed from a warrant as a result of an incident that occurred in September 2015.
###
Officers with the Riley County Police Department arrested a Manhattan man on several warrants this past weekend. Robert Snider Jr., 22, warrants for the offenses of probation violation and failure to appear include original offenses of failure to perform duty upon striking an unattended vehicle, criminal damage to property, and unlawful possession of marijuana.
Snider's total bond is $5,000.
###
Riley County Police filed a report for burglary in the 5600 block of Powercat Lane in Manhattan Friday for an incident that occurred after February 15th. Police listed Neal Helmick, 60 of Manhattan as the victim of this crime when two firearms, knives, various other items, and a bow were removed from an unsecured barn on his property.
The total estimated value of loss is over $3,000 and currently no arrests have been made. If you have information about this crime contact the Manhattan Riley County Crime Stoppers.
###
An aggravated robbery was reported in the 1000 block of Sunset Avenue Sunday morning at about 4:40. Police were made aware of an incident that involved a 22-year-old male victim being approached by a white male of unknown age and description who was brandishing a pocket knife. This unknown male demanded money of the victim.
No injuries were reported and listed as taken was an e-cigarette/vapor device valued at approximately $80.
###
The Riley County Police Department is investigating a theft which occurred in the 1700 block of Winne Drive in Manhattan between last Thursday and Saturday. Officers are currently seeking information on the disappearance of a .50 caliber Desert Eagle with additional magazine and a .38 Special Revolver. These items belonging to David Scarborough, 49, of Manhattan went missing from his residence and currently no arrests have been made.
If you have information about this crime or others in our area contact RCPD directly or use the Manhattan Riley County Crime Stoppers service to remain anonymous and potentially qualify for a cash reward of up to $1,000.00.