To be at the Beach Museum of Art or not to be at the Beach Museum of Art, that is the question.
Yes, a Shakespeare book from 1623 that introduced the world to such famous language that would still be a part of the fabric of western culture centuries later is available for viewing at the Marianna Kistler Beach Museum of Art on the campus of K-State for the entire month of February.
But don't think you can check it out William Shakespeare's "First Folio" for the weekend.
The original book of Shakespeare's plays is behind thick glass with its own temperature control system.
"We were lucky a few years back to work together with the campus, people in the community, the arts organization, the high school, to put together a huge application — 115 pages — to compete for (the traveling display) as the Kansas site," said Don Hedrick, who is a professor in K-State's Department of English.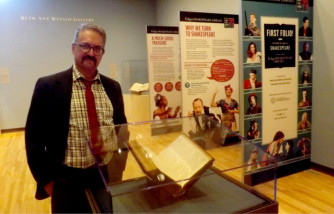 Of the 750 copies of the "First Folio" that were printed, it is estimated that only just 233 remain in the world.
"The last one that I heard of was sold to a Microsoft executive for $6.1 million," Hedrick said.
Theft of the book is nearly impossible. Hedrick said each existing copy has been meticulously cataloged. Every tear, stain or any other anomaly of each book — including the one on display in Manhattan — has been recorded.
Hedrick said it was quite the process to be the host site for the book as it makes its 50-state tour.
"They had to record the humidity for a whole month in the museum and give the records of that," Hedrick said. "There's a 24-hour security camera on it and it also requires that we have someone on staff be near the Folio at all times."
Most would assume the University of Kansas would be the landing place for such an artifact, but Hedrick said K-State's application received very high marks.
Hedrick also wouldn't say if KU did or didn't submit an application. He was also smiling when he said that. But then again, considering the result of the latest Sunflower Showdown after the men's basketball contest in Lawrence, the Wildcats will score a point in the rivalry wherever it can.
"We're not always thought of as the center of the humanities and the arts," Hedrick said. "But so much is going on here that people care about. When I proposed this to people around the community, in the university and among students, everybody had things they wanted to do around it."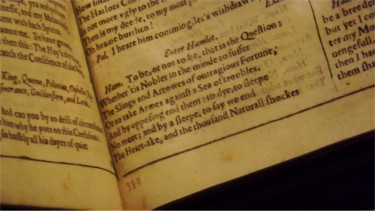 The tour is organized by the Folger Shakespeare Library, in partnership with the Cincinnati Museum Center and the American Library Association.