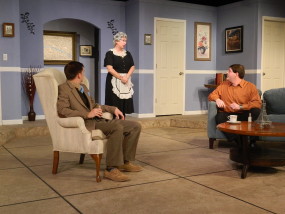 Buckle up your seat belt, stow your tray table, and sit back and enjoy the tale of a Paris architect who's juggling engagements to three different flight attendants.  He's getting help from his maid and a friend who's visiting from America, until a dose of bad weather and a faster airplane bring all three ladies to Paris at the same time.
"Boeing Boeing" is the best-known work of playwrite Marc Camoletti, and will be performed at the Manhattan Arts Center the next two weekends, with opening night set for this Friday, February 26.  The cast features Dave Walsh, Paul Knackendoffel, Penny Cullers, Chelsey Cogan, Mary Renee Shirk, and Naci Peters.
The farce is directed by Kim Riley, who describes the action as "a very physical form of comedy.  There's a lot of movement, it's very fast.  Doors opening and closing at the same time so that people just miss each other".
Originally performed in 1960, the play later became a movie.  It received a makeover back in 2008, bringing in new audiences and accolades.  "It was rewritten and redone", says Riley.  "And it won Tonys for the revival performance, and right now it's being done quite a few theaters around the country".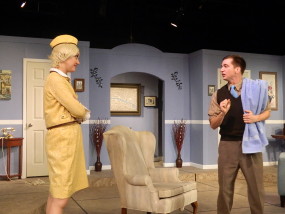 Knackendoffel and Peters worked with Riley and Cullers last spring in the MAC production of "Fox on the Fairway".  He says this show is "absolutely hilarious.  It's chaotic, it's crazy.  Just being silly like a French farce would be".  Peters concurs, saying "I would describe farce as unrealistic comedy, and it's hysterical".
Cullers is well-known to MAC patrons, and has directed and produced several shows in addition to providing beautiful, realistic set painting.  But she most enjoys being on stage.  "It's fun to be an actor.  It's fun to let go and just become part of somebody else's life.  And especially being in a comedy.  It is just a hoot"!  And as typical in a French farce, it's the character who's least suspected as the brains of the operation who actually holds things together.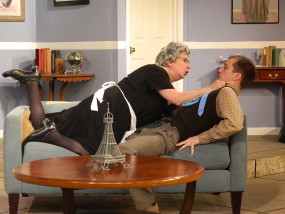 "Boeing Boeing" can be seen this and next weekend, with Friday and Saturday night performances at 7:37pm.  Both weekends will feature a Sunday matinee at 2pm.
For more information and tickets, call the MAC at 785-537-4420, or visit them online at http://www.manhattanarts.org/261/Boeing-Boeing.
And don't worry about missing your connection.  This is one trip you won't mind lasting a little longer.  Don't be surprised to find Berthe at the theater entrance, though.  She'd make a great TSA agent.