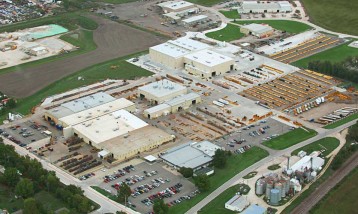 A Caterpillar Work Tools employee in Wamego has been arrested on a criminal threat charge. According to a news release from Wamego Police Chief Mike Baker Tuesday night police responded to Caterpillar on Balderson Boulevard last Thursday evening regarding possible threatening comments posted on a social media web page.
Erik Billis was taken into custody last week after making a threat against co-workers on social media. Reports indicate Billis made a threatening post on Facebook, saying he had officially snapped and mentioned a shooting spree sounding fun to go on at a place where you hate eveneryone.
Wamego Police and Pottawatomie county Sheriff deputies investigated the report and Billis was taken into custody without incident. He was not armed and cooperated with the investigation.
Pottawatomie County Attorney Sherri Schuck told KMAN Wednesday morning Billis made an appearance on the criminal threat charge Tuesday, with a $25,000 bond set. His next appearance for a status hearing is set for April 5th.