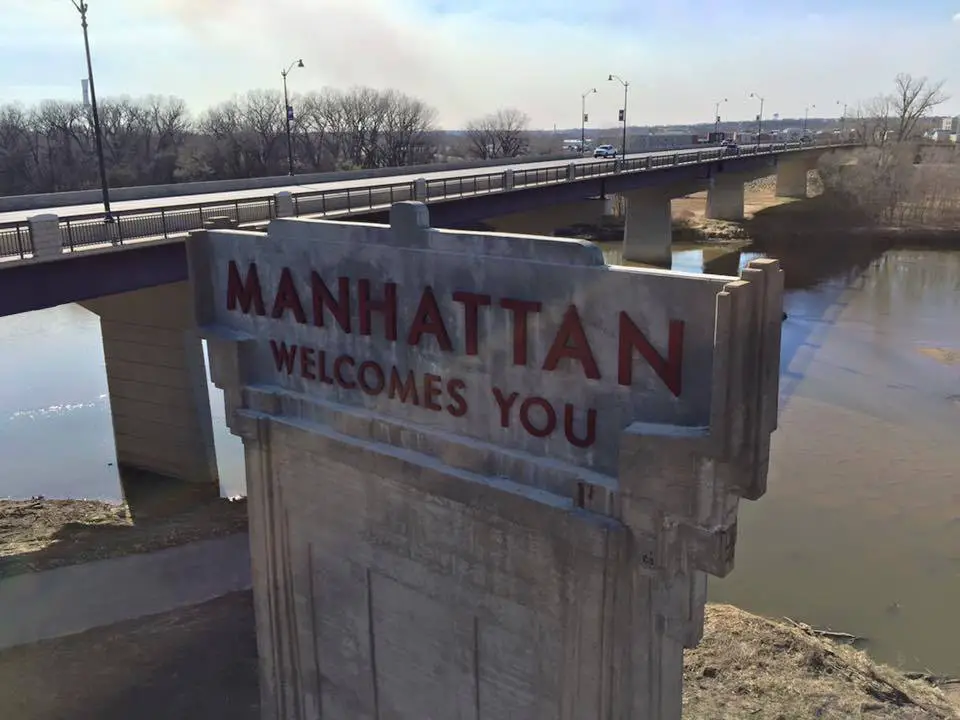 A new sign welcoming all to Manhattan was finished on Thursday afternoon on one of the old bridge piers at the Highway 177 entrance to town. The powder coated letters were attached to the pier in the warm weather on Thursday, with donated work from three different sign companies in Manhattan and a fundraising effort lead by Phil Anderson and Jim Williams.
"It is a thrill to finally get those letters up on that bridge pier," Anderson said on Friday morning. "It's like building a house: it starts with a budget but ends up becoming a wishlist."
He says getting the city and county to agree on the sign was a hurdle in itself before fundraising began in 2014. Lighting will be installed at the sign in the next few weeks.
The pier with the new art-deco themed sign belongs to the Kansas Department of Transportation and it took some time to be sure all requirements were met. Anderson said an acknowledgement plaque will be attached to the sign to commemorate all those who donated. The letters for the sign were made by JS Sign and Awning and MTS Custom Coating, both of Manhattan.
The effort stemmed from longtime Manhattan resident Blaine Thomas who wanted to see a sign by the bridge.