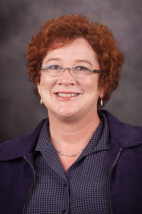 A memorial service for Joye Gordon will be from 2 to 4 p.m. Saturday, March 26, at the K-State Alumni Center. Gordon, who died March 7, was a professor of public relations in the A.Q. Miller School of Journalism and Mass Communications. Memorial donations may be sent to The Irvin Parkview Funeral Home, 1317 Poyntz Ave, Manhattan.
Gordon was one of the nation's leading scholars in risk communication, the study of messages designed to warn the public about potential risks related to health and personal safety. Gordon taught a graduate seminar in risk communication, and she taught undergraduate classes, including Fundamentals of Public Relations, Public Relations Case Studies and Public Relations Research, Strategy and Planning. As a member of the Mass Communications Graduate Faculty, Gordon routinely directed master's theses and often served on graduate committees in other departments across campus.
She received her bachelor's degree in finance from Nicholls State University in 1987, her master's degree in communication/public relations from Louisiana-Lafayette University in 1990 and her doctorate from Purdue University in 1999.