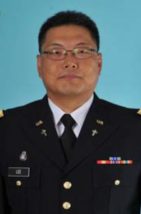 FORT RILEY — A 1st Infantry Divisions soldier who died in Manhattan has been identified.
Capt. Yohan Lee, a chaplain assigned to the 3rd Assault Helicopter
Battalion, 1st Aviation Regiment, 1st Combat Aviation Brigade, 1st Inf.
Div., died suddenly April 9. He was 45.
Lee arrived at Fort Riley in January 2014, entering the Army from Virginia. He was a Manhattan resident.
"Our hearts are heavy today over the loss of Chap. Lee," said Col. John M.
Cyrulik, commander of the 1st CAB. "He gave so much of himself to the
Soldiers and families of this brigade. We pledge our love and support to his
family during this incredibly difficult time."
The cause of Lee's death remains undetermined. Local law enforcement
agencies are investigating.