Riley County commissioners are eager to help in realizing K-State's North Campus Corridor plans. 
They're just worried if they can.
"As we go forward, you know we have a tax lid coming at us," Commissioner Robert Boyd said to KSU Institute for Commercialization president Kent Glasscock Thursday morning. "We will need partnerships in dealing with the legislature."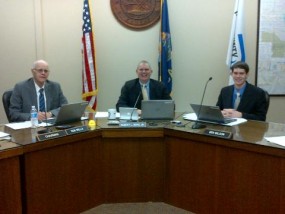 Glasscock, along with Assistant to the University President Sue Peterson, briefed the commission on the North Campus Corridor plans, which entail efforts to increase and revitalize research and laboratory facilities on campus north of Bill Snyder Family Stadium.
Officially, the North Campus Corridor is the area encompassed by the boundaries of North Manhattan Avenue on the East, Claflin Road on the south, College Avenue on the west and north of Kimball Avenue to include the KSU Foundation property.
"Kansas State University needs to grow its research base," Glasscock said during the presentation. "Currently at about $180 million a year. For every added million dollars of new research brought to Kansas State University, roughly 20 new full-time equivalent positions are created.
"That is a huge, huge impact on this community — but we have to have a place to put them."
Glasscock added that he hopes Riley County can aid in costs for the improvements.
There was no argument from the commission in partnering with K-State and the City of Manhattan in reaching those goals and assisting in funding for infrastructure. But how that happens in the state's current political and fiscal climate clouds exactly what the county can do to help.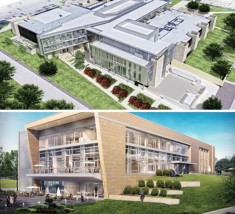 "We've got to have a coordinated strategy in dealing with legislation as it comes to us," Boyd said.
Peterson acknowledged the tough spot commissioners are in and said that while universities normally stay out of the political fray, today's circumstances in the state could change that.
"Normally, higher education as a collective group doesn't engage in tax policy, but in this case we're probably going to have to change that way," she told the board.
"As Commissioner Boyd said, I'm very supportive," Commissioner Ron Wells said. "The only thing I was going to offer if it wasn't going to be brought up was the tax lid. We have a group of people in Topeka that think they know more about running a county than we do."
Ben Wilson, the commission chairman, didn't indicate any difference in the opinion of his colleagues.