K-State and local leaders are looking for answers in the wake of two lawsuits filed Wednesday in U.S. District Court by two female students accusing the university of ignoring alleged rapes that took place at off-campus fraternity houses.
The two civil rights lawsuits contend the university's practice endangers students and violates federal law by creating a hostile learning environment for victims.
The suits say Kansas State is under a federal Title IX investigation.
The students' attorney, Cari Simon, says the U.S. Department of Education has said schools have an obligation to respond to such complaints, even if they occur off campus. She says Kansas State's position is an outlier.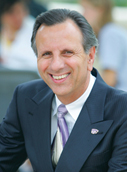 The lawsuits cite police reports that indicate at least 11 rapes were alleged to have happened at Kansas State fraternities since 2012.
Pat Bosco, the Vice President for Student Life and Dean of Students at KSU, released statements on the matter Friday morning through K-State's "K-State Today" online newsletter saying, "The K-State family must continue to act together to make sure everyone is safe, respected and supported. We all share in the collective responsibility to report and respond to incidents of sexual assault, domestic violence, dating violence, stalking and harassment.
"Recently, there has been heightened awareness surrounding these issues nationwide. They are serious and must be addressed."
Bosco may have been referring to the New York Times piece on the lawsuits published Wednesday about the K-State lawsuits.
In November 2015, CNN published a story about another female K-State rape victim, who also took issue with the university's handling of her experience and financial troubles after.
CNN's story also referenced Title IX issues, saying it directs that colleges should not make an alleged victim pay certain costs required to continue his or her education.
It also stated KSU is among 146 colleges and universities under investigation by the Department of Education's Office of Civil Rights for possible violations of the federal law on the handling of sexual violence and harassment complaints.
Bosco said the university doesn't take sexual violence lightly.
"We take these situations seriously and are tireless in helping and supporting my students," he wrote. "However, when we receive a report, we also are committed to maintaining confidentiality to protect those involved. This means we will not comment publicly about sexual assault cases or respond to claims made in the media."
K-State Student Body President Jessica Van Ranken, who was just sworn into office this month, told KMAN Friday morning her and her vice president, Trenton Kennedy, have been digging into the issue.
"We've spent some time this week trying to gather information about the policy and a potential policy change and what students think and how we should respond to that situation," she said.
While Van Ranken believes KSU acted according to its policy on such matters, she said it's not enough.
"We've been taking the stance that we recognize and understand that the university acted within its policy and fulfilled the policy measures that were in place when dealing with the two situations in question — which are tragedies and we greatly respect those women for being brave enough to come forward," she said. "But we recognize the university policy in place… is inadequate."
Van Ranken said she supports a policy change that would allow for the university to investigate rape allegations that happen off-campus, which the suit claims is encouraged in Title IX policy.
Riley County Police Department Director Brad Schoen told KMAN Friday morning he feels his officers and the campus officers did their jobs.
"As I understand the suit, it's not a question of whether or not the Kansas State University Police Department investigated them, it was a question of whether Kansas State University conducted an appropriate Title IX investigation into the allegations," Schoen said. "That I'm not in a position to comment on, but I can tell you that both those instances were reported to the RCPD. We filed the reports, we conducted the investigations and sent them up to the county attorney's office.
"I know at least one of those cases is still pending, so I'm not in a position to talk about it, but from our perspective, we feel we took all the appropriate investigatory steps and forwarded them to the prosecutor's office for disposition."
The lawsuits come at a busy time for the university.
Last month president Kirk Schulz surprised the community by announcing he'd agreed to take the president job at Washington State University and longtime assistant director of the K-State police, Don Stubbings, announced on April 15 that he'd taken a similar position at the University of Saint Mary in Leavenworth after being with KSU for 18 years.
Retired U.S. Air Force Gen. Richard B. Myers was named the interim president April 14.