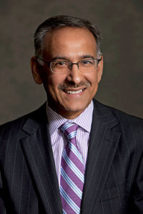 The 170th installment of the Landon Lecture Series took place Monday morning with vice chairman and chief scientific officer of global research and development for PepsiCo, Dr. Mehmood Khan.
Hailing from the Big Apple, Dr. Khan arrived to Manhattan just in time to experience his first tornado warning, and thanked K-State for the warm welcome.
During his speech, Khan didn't necessarily touch on working for a global food leader. Rather, he underscored the misconseption most have about his job at PepsiCo. He told his audience his job isn't necessarily focused on making their iconic beverages, rather it's about the guiding the choices the cooperation makes on a global level.
In his speech, he discussed the various choices individuals, corporations, and institutions have to make to create a more sustainable world. At the forefront of his speech were today's conflict of ethical decisions, technological advances, and food insecurity. He stated that by 2050, the global population will rise to 9.5 billion.
While the world's population grows too large to ignore, Khan told K-Staters that 60 million Americans live on food assistance. That's 1 in 5 Americans, and it adds more pressure onto big companies such as PepsiCo to face the increase in population and poverty.