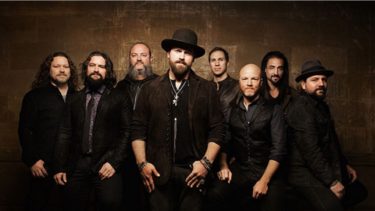 Three-time Grammy Award winners and multi-platinum artists Zac Brown Band will headline the first major concert event at Bill Snyder Family Stadium in nearly 30 years as K-State Athletics and Basis Entertainment announced today details for a one-of-a-kind Wildcat Kickoff music festival on Saturday, Sept. 10.
Joining Zac Brown Band's headlining act will be multi-platinum pop rock band Train, featuring lead singer Pat Monahan. The event, which falls on K-State's football bye week between the Sept. 2 Stanford trip and the Sept. 17 home opener versus Florida Atlantic, will mark the first stadium concert in Manhattan since 1987 when Willie Nelson played at then-KSU Stadium.
"The creativity and diligence of Scott Garrett, Jim Muller and many others in making this opportunity for Manhattan possible is a perfect illustration of K-State Athletics' core goal No. 2: providing Value to the University, Community and State," said K-State Athletics Director John Currie. "Zac Brown Band is one of the most successful artists across any genre, and we are thrilled to welcome them to Manhattan and Bill Snyder Family Stadium. To host such a huge event here is simply more evidence of Manhattan's emergence as the No. 1 college town in America."
Iowa-based Basis Entertainment executive Gary DeWaard, as well as local Manhattan leaders, see great potential for such an event for area residents as well as the community as a whole.
"We here at Basis Entertainment are thrilled and honored to be working with a fine institution like Kansas State for the Wildcat Kickoff," said DeWaard. "We can't wait to bring Zac Brown Band, Train, and a host of other fantastic musical artists to the Wildcat faithful and help kickoff what I am sure is going to be a memorable 2016 football season."
"Manhattan is known for many things, including K-State Football and Country Stampede, and to bring both of these genres together is ideal," added Manhattan Chamber of Commerce Vice President Karen Hibbard. "The Little Apple® is a terrific destination offering great lodging, shopping and dining for football and music fans to enjoy, and we look forward to this exciting event."
"We know how important K-State football weekends and 50,000 fans are to our local economy," said Garrett, senior associate athletics director. "When it became apparent that we would only have six home games in 2016 we wanted to find a way to bring another major fall event to Bill Snyder Family Stadium, and Sean Snyder and Coach Snyder have been great in ensuring that we could host the Zac Brown Band without negatively affecting our team's preparation for Florida Atlantic."
Thousands of country music fans from across the region descend on Manhattan each summer for the annual Country Stampede and General Manager Wayne Rouse views the Wildcat Kickoff event as further proof of the appeal of Manhattan to some of the nation's top acts.
"Country Stampede is looking forward to working with K-State Athletics and the opportunity to cross-promote our two events," said Rouse. "This is definitely a win-win situation for both parties and the Manhattan area."
Tickets for the event start at $39 and will go on sale May 3 to Zac Brown Band fan club members and then May 6 for K-State students, Ahearn Fund members and season ticket holders. The general public can begin purchasing tickets on May 13. K-State's suite and club ticket holders will be sent information on securing their tickets through Ahearn Fund Hospitality prior to the on sale date.
Zac Brown Band will cap a nationwide summer tour of 30-plus shows across North America in Manhattan on Sept. 10 which also includes stadium performances at Fenway Park, Target Field and Citi Field.
Additional information, including additional performing acts and ticket prices, will be announced in the coming weeks. Visit http://wildcatkickoff.fstivl.com/ or www.kstatesports.com for more information.
For additional updates, follow on Twitter @WildcatKickoff or also on Facebook.