Nearly 500 young men from across the State of Kansas, all of whom will be entering their senior year of high school this fall, are anticipated to participate in the 2016 session of the American Legion Boys State of Kansas Leadership Academy (ALBSKLA). The event, in its 79th year, will be held Sunday, June 5, through Friday, June 10, at Kansas State University in Manhattan.
The ALBSKLA provides a relevant, interactive, problem-solving experience in leadership and teamwork that develops self-identity, promotes mutual respect and instills civic responsibility. Boys State is a "learning by doing" political exercise that simulates elections, political parties and government at the state, county and local levels, providing opportunities to lead under pressure, showcasing character and working effectively within a team. It's also an opportunity to gain pride and respect for government and the price paid by members of the military to preserve democracy.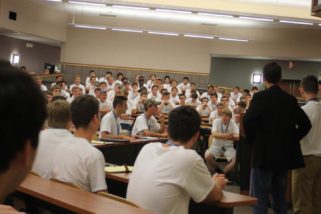 The following are the major events and special speakers during the week that are open to the public:
Sunday, June 5
Opening Ceremonies, 2:45 p.m., McCain Auditorium
Keynote speaker: Dustin Galyon, men's basketball head coach at Hesston (Kan.) College and motivational speaker. Galyon was a 2001 Kansas Boys State delegate and Boys Nation senator.
Monday, June 6
Announcement of KBS primary election winners for state offices, 1:15 p.m., Assembly Area (Marlatt Hall parking lot [northeast of building on Claflin Road])
Swearing in of KBS mayors by 2015 KBS Governor Bryce Johnston, a resident of Leawood, Kan., and a 2016 graduate of Kansas City Christian School in Prairie Village, Kan., 7 p.m., Assembly Area
Tuesday, June 7
KBS state offices candidates' debate, 1 to 3 p.m., McCain Auditorium
Announcement of KBS general election winners for state offices, 7 p.m., Assembly Area
Wednesday, June 8
KBS Governor's Inaugural Address, 8:30 a.m., Assembly Area
KBS Talent Show, 7:30 to 10 p.m., McCain Auditorium
Thursday, June 9
Flag Retirement Ceremony, 7:15 p.m., World War II Memorial in front of McCain Auditorium
KBS Band and Chorus Concerts, 7:30 to 8:30 p.m., followed by special speaker Clint Usher, Boys State of Alabama academic counselor, and speeches by Boys Nation candidates, McCain Auditorium
Friday, June 10
Closing Ceremonies, noon to 1:30 p.m., McCain Auditorium
Keynote speaker: Derek Schmidt, Kansas attorney general and 1984 KBS governor
Announcement of Boys Nation senators
Announcement of Outstanding Citizens from each KBS city
Final Assembly/Flag Lowering, 1:30 p.m., World War II Memorial in front of McCain