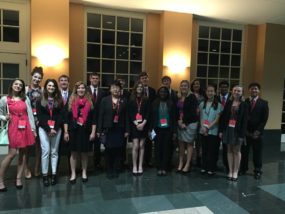 The Manhattan High BPA students were very competitive at the Business Professionals of America National Leadership Conference (NLC) in Boston May 5-8.
The 18 participating students were: Bryan Armbrust, John Benfer, Lexi Bieker, Mark Buckwalter, Jonathan Chen, Lily Colburn, Emma Devane, Fatou Faburay, Stephanie Fu, Suzanna Gevock, Nabil Hossain, Luann Jung, Chloe Lhuillier, Maya Minoch, Lexie Nichols, Brandon Religa, Corbin Sedlacek, and Isis Thornton-Saunders. They qualified for NLC at the February Kansas Leadership Conference in Wichita.
9 of the MHS participants scored in the top 10 in their respective individual or team events.
The results follow:
 Luann Jung & Stephanie Fu- 2nd Administrative Support Team (out of 30)
Emma Devane, John Benfer, Chloe Lhuillier, Corbin Sedlacek- 2nd Financial Analyst Team (out of 25)
Luann Jung-3rd Medical Office Procedures (out of 70)
Lexie Bieker-3rd Fundamental Accounting (out of 71)
Lily Colburn-9th Extemporaneous Speech (out of 47
Mark Buckwalter-8th Presentation management (out of 45)
Luann Jung-9th Administrative Support Concepts Open Test (out of 640)
In addition to the traditional BPA events, "Bank-on-It" was a 100-student bracket-play accounting competition. Chloe Lhuillier placed 2nd and Fatou Faburay placed 4th. Maya Minocha finished in 5th place, with several other MHS students close behind.
The BPA advisor is Paige McCarthy. Glenda Eichman, MHS accounting teacher, and Debra Kidd, CTE Coordinator and Business Department Head, helped sponsor the trip.