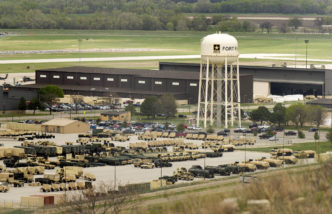 More than 300 Soldiers with the 2nd Armored Brigade Combat Team, 1st Infantry Division, are set to return to Fort Riley Sunday (June 5) after a nine-month deployment to the Central Command area of responsibility.
Two welcome-home ceremonies are scheduled for Sunday. The first will be at 1:30 a.m. for about 40 Soldiers. The second will be at 10:45 a.m. for about 300 Soldiers.
While deployed, the "Dagger" brigade assumed responsibility of the theater security cooperation and partnership mission within CENTCOM. Through bilateral exercises and training exchanges, Dagger Soldiers displayed commitment in increasing partner capacity while fostering professional and personal relationships in the region to reaffirm support for long-term sustainment of security and stability in the region.
The brigade cased its colors on Sept. 28 at Fort Riley. All members of the 2nd ABCT are expected to return by the end of July.