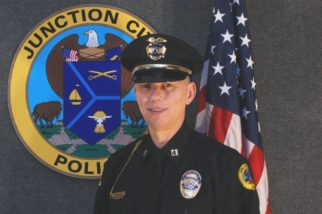 Captain Dan Breci will assume the duties of Interim Police Chief of the Junction City Police Department effective June 4, 2016 upon the retirement of Police Chief Tim Brown who has been a member of the Department for over 37 years.
Breci began his professional law enforcement career as a law enforcement officer in with the Mitchell, South Dakota Police Department in 1976. After serving in the United States Army at Fort Riley for three years, he began employment with the Junction City Police Department in 1989. He then served as Detective in Charge of Internal Affairs with the Topeka Police Department for six years and then was named as Under-sheriff of the Shawnee County Sheriff's Office in Topeka. Breci then became instructor of Police at the Kansas Law Enforcement Training Center at Hutchinson before returning to the Junction City Police Department as Captain of Operations in 2005.
City Manager Allen Dinkel said that the process to fill the position on a permanent basis will continue.