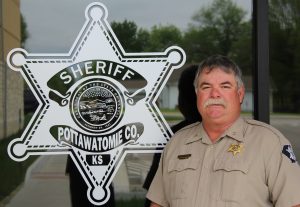 The 2016 Country Stampede came to a close on Saturday night, bringing down the curtain not only on the concerts but also the massive operation headed up by Pottawatomie County Sheriff Greg Riat.  Riat oversees a staff comprised of his own deputies, as well as officers from the Riley County Police Department, Wamego City Police, Kansas Highway Patrol, and other agencies.
Riat credited the entire staff for hard work under challenging conditions.  "The officers that are out there walking and working do such a good job", he said.  "It was hot, and they walk a lot of miles out there, trying to keep everybody safe".  He also praised the onsite Stampede personnel, saying "their security does a really good job.  They've put together a pretty good group and they do a lot to keep that safe for everybody".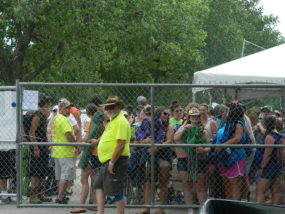 When KMAN spoke to Sheriff Riat on Sunday, he hadn't yet seen the final reports, but felt optimistic that he and his team had provided a safe environment for Stampede fans.  He estimated the number of arrests at the event at around 30, adding "we'd like to not see that many".  He again pointed out the many hours of hard work put in by the entire law enforcement team.
"You know, again…it's a good group of people and we've done it for quite a few years now.  And for the most part it goes pretty well".
While Riat agreed that he and his team would enjoy having Sunday off, there's no rest for the weary.  "I know Wamego Police Department assisted up out there.  Some of their officers did and Chief Baker, and we're going to turn around and help them on the 4th of July", referring to Wamego's annual 4th of July Celebration that begins Thursday June 30th, and brings tens of thousands of people to the city.
Still, a day off is a day off.  "I think for our guys it's nice to have off Sunday and recover a little bit".