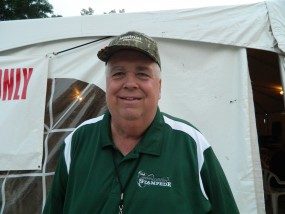 For the last several years, the Country Stampede music festival promised fans four days of entertainment.  Starting this year, there will be no events on Sunday, with the final concert scheduled for Saturday night.
"We did away with the Thursday night kickoff party, and moved Sunday to Thursday", said Wayne Rouse, President of Country Stampede.  "You've got three full days.  All people lost was the kickoff party".
Rouse told KMAN that the format change was done primarily for those who travel to Manhattan for the annual festival.  "A lot of our crowds left the campground early Sunday morning so they could drive back", he said.  The new format also benefits all the local fans, who now have "a full day off before they go back to work" on Monday.
The reaction to the change has been overwhelmingly positive.  Rouse noted that when the idea was first discussed, almost everyone was in agreement.  "We asked people what they thought.  Kind of took a little survey, and everybody except for two people thought it was a great idea", said Rouse.  "Then the other two people came across…this is going to work!".
VIP ticket holders, who under the four day format only had a reserved seat and parking for the Thursday kickoff party, will now enjoy the full benefits of their VIP ticket on the first day: two catered meals, unlimited water, pop, and beer, and a shaded area near the main stage exclusively for those with VIP wristband.
The first day of the Stampede features Sam Hunt and Dierks Bentley.  Friday's lineup features headline artist Tim McGraw, and the festival will close on Saturday night after performances by Chase Rice and Jake Owen.  Tickets will be available at the gate.