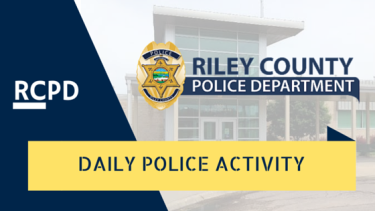 A Westmoreland woman was arrested on Wednesday.
Wanda Silva, 39,while in the 300 block of 11th Street in Ogden on Wednesday morning. Silva was arrested on a warrant for the offense of failure to appear (original offense of possess opiates, opium, or narcotic drug). She was given a bond of $15,000.  She was not confined at the Riley County Jail.
---
A Manhattan woman was arrested Wednesday.
Riley County Police Department arrested Holly McDaniel, 25, while at the RCPD on the offense of possession of opiates, opium, or a narcotic drug and trafficking contraband into a correctional facility. She was given a bond of $8,000 and was confined at the Riley County Jail.
---
A Junction City woman was arrested  on Wednesday.
Stacey Stoddard, 45, was arrested at the Walnut/Cimaron Trail Wednesday afternoon.  Stoddard was arrested on felony DUI and was given bond of $5,000 and was confined to the Riley County Jail.
---
Police in Riley County filed a report for the offense of theft in the 500 block of Richards Drive Wednesday morning for an incident that occurred overnight. Officers listed Larson Construction as the victim after two air welders and tools were removed from a work site in the area (Four Points Hotel) by an unknown subject. The total estimated loss is approximately $9,350 and no arrests had been made. If you have information about this crime contact the Manhattan Riley County Crime Stoppers.