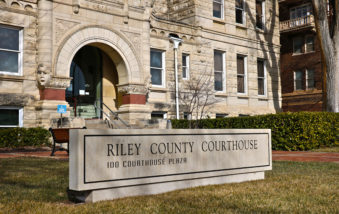 Status hearings were held Tuesday in Riley County Court for four defendants arrested in connection with the distribution of methamphetamine and other illegal substances earlier this month in the 100 block of Blue Earth Plaza in Manhattan.
Raymond Wood, 25, and Ciara Carroll, 21, both of Wamego and Cory Kulhman, 22, and Hallie Vardys, 22, both of Topeka had status conferences Tuesday, with a July 26 hearing set for Wood and Carroll and a July 19 date set for Kuhlman.
The four were arrested following a joint investigation involving Riley, Geary, Pottawatomie, and Wamego law enforcement agencies. During the operation, methamphetamine, a distributable amount of controlled prescription pills, drug paraphernalia, and a stolen firearm were seized.