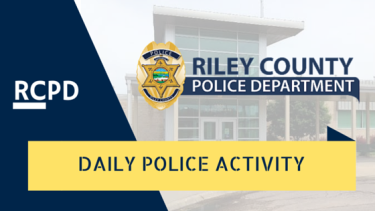 An Ohio man faces a $100,000 bond following his arrest by Riley County Police Thursday. Thomas Bergener, 34, of Strasburg, Ohio was arrested at approximately 6:40 PM while at the Riley County Police Department.
Bergener was arrested on a warrant for failure to appear with an original offense of possession of opiates, opium, or narcotic drugs.
As Kman reported almost exactly one year ago, on July 17th of 2015, Bergener was arrested after police received complaints about an unwanted subject who was in a gas station bathroom and refusing to leave after a significant amount of time. Drug activity was suspected and officers seized approximately one gram of heroin as well as a needle.
###
Arrested Thursday on the offenses of aggravated sexual battery and aggravated criminal sodomy listed on a Riley County warrant was Trevor Schweikert, 21, of Wichita. Schweikert was arrested in Sedgwick County and given a bond of $30,000.
Riley County Police report the warrant stems from an incident in Riley County that took place in December 2015 and involved a female victim who was 19 years of age. No further information was available at the time of this report.