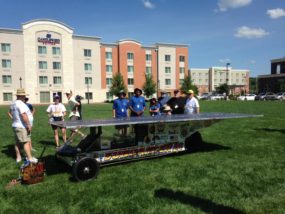 The 2016 Solar Car Challenge makes a stop in Manhattan for the day.
High School students from all over the country have been making their way from state to state in these solar powered cars they built themselves.  As drive to their destination Minneapolis, Minnesota, the students made a pit stop to work on their cars and talk to the media.
One student from the Iron Lions team from Greenville, Texas, Anakin Settle, said that they have completed over 140 miles in their car.
 The Solar Car Challenge was designed to help students see the advantages of renewable energy and to motivate them in the fields of science and engineering. The students starting working on these cars last year and some build new ones every year.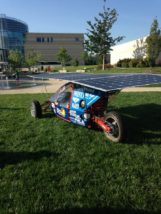 The group left from Fort Worth, Texas on July 17 and are expected to arrive in Minnesota on July 23.