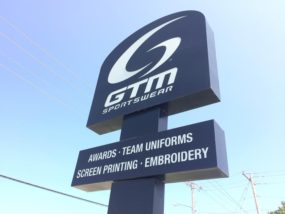 One of Manhattan's largest businesses is changing hands at the end of the month. GTM Sportswear, which specializes in team warm-ups and uniforms and does business nationwide, came to a purchase agreement with apparel giant HanesBrands, Inc. on Wednesday night.
GTM opened its doors in 1989 and employs more than 650 people at its headquarters on McCall Road.
Founder and CEO Dave Dreiling told KMAN the decision to sell his company was inspired, in large part, by the belief that this deal will take GTM to new heights.
"Knowing how strong (Hanes is) in this market, and knowing the strategic fit that this would create, I was willing to listen," he said. "The more we talked, the more it made sense to me on both sides. I saw that we could do something special in this marketplace."
Hanes is headquartered in Winston-Salem, NC, and employs 70,000 people internationally. While best known for its T-shirts and undergarments, the company also owns sportswear labels Champion and Gear For Sports, the latter of which is based in Lenexa, Kansas. Financial terms of the agreement were not disclosed.
Dreiling is going to remain with GTM as the CEO of Hanes' new business unit. The name will not be changed. While acknowledging the sale could make people uneasy, he said job security is not an issue for his employees.
In fact, the quality of GTM's workforce is one of the reasons Hanes was interested in striking a deal.
"They are buying us because of our capabilities, which includes our people," Dreiling said. "The objective with this acquisition isn't to come in and shave costs; it's to grow the business, quickly and effectively. They give us the tools to grow faster than we could on our own."
As part of the deal, Hanes signed a ten-year lease agreement on GTM's buildings and property.
The sale also includes the GTM-owned K-State Super Store. None of its locations will be affected.
Hanes' goal in acquiring GTM, Dreiling said, is to take an aggressive step forward in the markets GTM has been a large part of for years. The partnership makes sense because Hanes' motivations mirror his own.
"Their vision is to be a best-in-class supplier of decorated apparel for teams, clubs and youth organizations throughout the United States," he said. "This provides an opportunity for aggressive growth for our employees and Manhattan. It's an opportunity that wouldn't be possible without a big brother like HanesBrands."