A Nebraska man required hospitalization following an officer-involved shooting in Geary County this past weekend, according to a press release from the Geary County Sheriff's Department sent to KMAN Tuesday.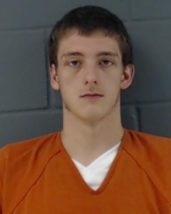 Dylan Binnick of Beatrice was transported via Life Star to Stormont Vail in Topeka following the shooting, where his condition was listed as stable with no surgery required.
A news release from Geary County Sheriff Tony Wolf indicates the early Sunday morning shooting occurred in the area of Skiddy Road and Skiddy West, or one mile north of Skiddy Cemetery in rural Geary County. An initial report indicated a possible vehicle accident with three subjects involved. Deputies made contact with two men and one female subject walking on Skiddy Road, with Binnick reportedly removing a handgun from his waistband in a threatening manner. Binnick was then shot by an unidentified deputy.
Deputies administered first aid to Binnick until Junction City Fire/EMS arrived on the scene.
The others involved were identified as Noah Marshall and a juvenile female, both of Beatrice. It was later determined the individuals were suspects in reported felony crimes in Beatrice the past few days, including a reported stolen vehicle tied to the three subjects.
The case has been turned over to the Kansas Bureau of Investigation.