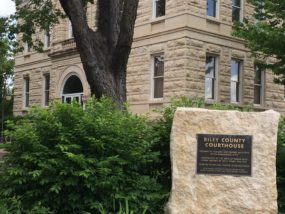 An 18-year-old Riley man has been sentenced in Riley County District Court to 18 months of Intensive Probation with Riley County Community Corrections for involuntary manslaughter. Wyatt Howe also was ordered to serve 28 days or 672 hours in the Riley County Jail. His times out on work release do not count towards the hours of service.
Howe was arrested in August of last year in connection with a late 2014 fatal accident resulting in the death of Brent Kilbourn, 17, of Blue Rapids. KMAN records indicate Howe was driving in the accident which occurred near Keats, with a high rate of speed involved and the Chevy Camaro Howe was driving wrapped around a tree on the passenger's side during the early morning accident.
Kansas Highway Patrol's investigation was completed in February of 2015 and witness statements confirmed the high rate of speed.