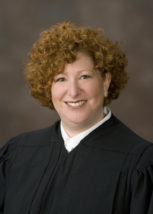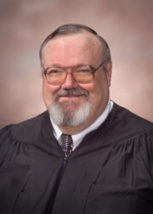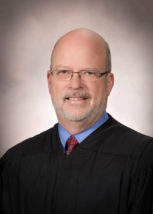 A three-judge panel of the Kansas Court of Appeals will hear six cases September 19 at Kansas State University in Manhattan as part of the court's observance of Constitution Day.
The court will hear cases in two sessions beginning at 9 a.m. and at 1:30 p.m. in Forum Hall of the KSU Student Union.
Judges Melissa Taylor Standridge, Stephen D. Hill, and Kim R. Schroeder comprise the panel. Standridge is the presiding judge for the hearings.
"Most months, panels of Court of Appeals judges will hear cases in Wichita, Topeka, and Kansas City," Standridge said. "Intermittently, Court of Appeals panels will visit other parts of the state, places like Manhattan, to make our court more accessible to the people of Kansas."
During the panel's sessions, attorneys for each side will have an opportunity to present arguments to the judges, and the judges will have a chance to ask questions. After the hearings, the court will take each case under consideration and will issue a written decision at a later date, usually within 60 days.
When the oral arguments are complete, the judges will be available to talk with students.
These hearings are part of Constitution Day observance activities this year at Kansas State University, Friends University, and Washburn University. Congress directed federally funded educational institutions to host educational events about the U.S. Constitution on or about September 17 each year. The Constitution was signed September 17, 1787, by a majority of delegates to the Constitutional Convention.
Only one of the six cases is local–a Riley County appeal involving Great American Insurance company and Ross Wahl, involving a crop insurance payment matter. The other cases originated in Saline,
Russell, Ottawa, and Dickinson Counties.
Details follow:
9 a.m.
Appeal No. 115,716: State of Kansas v. Larry Laverne Toothman
Salina County: Toothman was charged with three counts of rape, one count of distribution of a prescription sedative, two counts of aggravated criminal sodomy, and two counts of attempted aggravated criminal sodomy against his stepdaughter. The court admitted evidence of Toothman's prior convictions for aggravated criminal sodomy, criminal sodomy, rape, aggravated indecent liberties with a child, and aggravated incest against his niece. The jury convicted Toothman as charged, and he was sentenced to 653 months in prison. Issues on appeal include whether 1) admitting the prior sex offenses violated Toothman's constitutional due process protections; 2) if such evidence was constitutionally allowed, was its value outweighed by the prejudicial effect of the evidence; 3) the jury should have been instructed that the evidence of the previous convictions was not sufficient to prove commission of the charges presented; 4) the jury could consider the prior evidence with regard to every charge; and 5) the cumulative effect of these errors merits a new trial.
Appeal No. 115,193: State of Kansas v. Michael Darnell
Saline County: Darnell was convicted of aggravated burglary, aggravated kidnapping, aggravated sexual battery, and battery after attacking a woman in her home. Issues on appeal include whether 1) there was sufficient evidence in each of two scenarios presented to convict Darnell; 2) the court erred by admitting prior criminal evidence and failed to properly instruct the jury; 3) comments by the prosecutor amounted to reversible error; 4) the errors amounted to cumulative error; and 5) the court had authority to order Darnell to pay restitution to the county attorney's office for costs.
Appeal No. 116,764: David Wasinger, d/b/a Allegiant Construction & Design v. Roman Catholic Diocese of Salina
Russell County: Wasinger was hired by St. Mary Queen of Angels Parish in Russell to design and construct a rectory. In the contract, the parties agreed that if any dispute could not be resolved, they would participate in binding mediation. A dispute arose, the parties proceeded to mediation, and the mediator issued a decision. Wasinger did not agree and sued for breach of contract and defamation. The district court ruled in favor of the diocese, finding the mediator's decision was binding based on the contract. Issues on appeal include 1) whether the contract required binding mediation or arbitration; and 2) whether the contract involved interstate commerce.
1:30 p.m.
Appeal No. 115,937: State of Kansas v. Jason L. Jeardoe
Ottawa County: Jeardoe was convicted of two counts of involuntary manslaughter while driving under the influence and one count of driving left of center in a 2014 head-on accident that killed two people. At the scene, a Highway Patrol trooper asked Jeardoe for consent to test his blood for alcohol, adding that if he refused, he could face a greater penalty than driving under the influence. Jeardoe agreed to the test. Before his trial began, the Kansas Supreme Court struck down the statute imposing the greater criminal penalties. Jeardoe sought to suppress the blood test results, but the court ruled the trooper was following the statute in effect at the time and denied the motion. He was found guilty as charged and was sentenced to 195 months in prison with a post-release supervision term of 36 months. Issues on appeal include whether 1) the court erred in denying Jeardoe's motion; and 2) whether the evidence was sufficient to convict him.
Appeal No. 117,355: New Century Bank f/k/a/ National Family Bank of Munden, Kansas v. Clifford C. McMillan
Dickinson County: In 1998, National Family Bank of Munden — now New Century Bank — loaned nearly $50,000 to McMillan in exchange for a mortgage on two tracts of land in Geary County. McMillan failed to make payments, and in 2001 the bank obtained a judgment in Geary County for $49,272.66. McMillan sold one tract, and the bank purchased the other at a sheriff's sale, leaving a debt of about $24,772. The bank then sued in Dickinson County for a judgment lien against property McMillan owned there. In 2010, the bank sought an order to sell that land. The sheriff was unable to personally serve McMillan with the order. The bank published notice of the sale and received acknowledgment from McMillan's attorney that he received a copy of the sale order and that a copy also had been delivered to McMillan's adult daughter at his Junction City address. The land was sold for $25,000. Afterward, the bank agreed to sell three acres back to McMillan in exchange for McMillan releasing his redemption rights. In 2016, McMillan filed a motion in Dickinson County to set aside the sheriff's sale. The court denied the action, finding that "reasonable time" to seek relief had lapsed. Issues on appeal include whether 1) the sheriff's sale was void because the bank's case originated in Geary County; 2) the sale was void because McMillan had not been personally served the notice of sale; and 3) the court erred in ruling reasonable time had lapsed.
Appeal No. 117,176: Great American Insurance Co. v. Ross Wahl
Riley County: Wahl purchased crop insurance through Great American Insurance Co. as a "new producer" and was paid for losses in 2009 and 2011. In 2012, GAIC determined Wahl had been overpaid because he was not a new producer. Wahl suffered another crop failure in 2012, but GAIC withheld payment and demanded repayment of the overpaid balance. GAIC notified the U.S. Department of Agriculture about the alleged overpayment, and USDA deemed Wahl ineligible for its programs. GAIC sued Wahl in 2015 to collect the $2,217 it overpaid. Wahl countersued for the $10,818 payment GAIC had withheld. GAIC claimed Wahl's counterclaim was invalid because Wahl failed to initiate arbitration as required by his crop insurance policy. The court found both parties were bound by the agreement and that GAIC waived its enforcement by suing Wahl. At trial, GAIC alleged Wahl was not a new producer because he held a substantial business interest in R.W. Farms, which produced crops in 2000 through 2003. Wahl presented evidence that showed he ceased holding stock in R.W. Farms in May 2002, which meant he later could be designated as a new producer. The court ruled Wahl was entitled to $10,818 and ordered GAIC to notify the USDA that Wahl should be restored to eligibility for USDA programs. Issues on appeal include whether the court erred by 1) applying state law instead of federal law; 2) allowing the suit to continue without first requiring arbitration; and 3) interpreting the crop insurance policy without consulting the Federal Crop Insurance Corp.