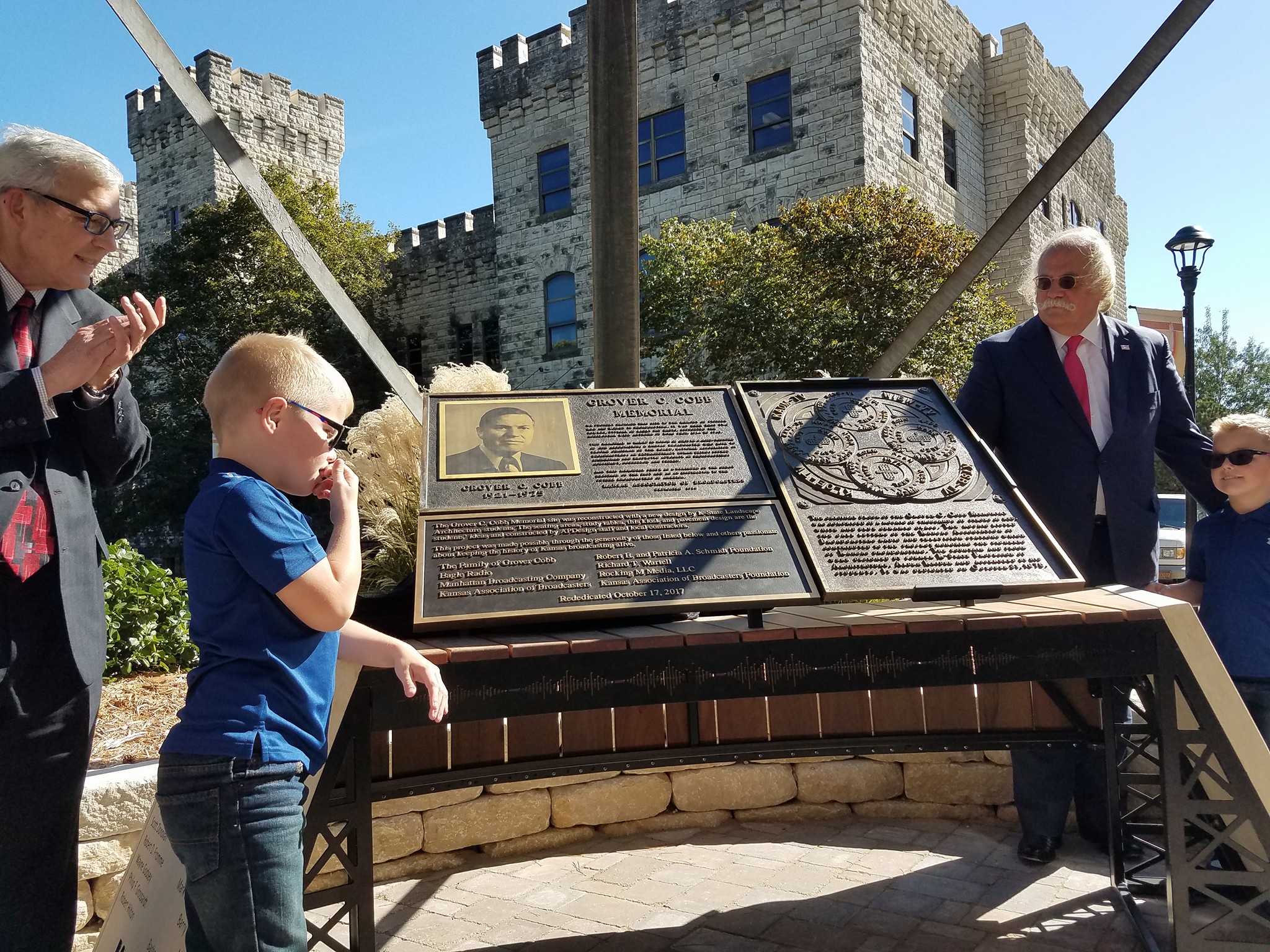 The 2017 Kansas Association of Broadcasters Convention ended honoring one of its founders Tuesday afternoon.
Following the convention's closing lunch at the Manhattan Conference Center, family, friends and colleagues of Grover Cobb gathered on the campus of Kansas State University to rededicate the redesigned memorial in Cobb's name.
Cobb was one of founding members of the KAB 66 years ago and eventually joined the National Association of Broadcasters as its senior executive vice president after broadcasting careers in Great Bend and Salina. He died at the age of 53 in 1975 and his memorial at K-State was built a year later under one of the university's radio towers. The towers were constructed in 1924 — two of the earliest radio towers erected in the United States.
One of Cobb's seven children, Ty, is a veteran Washington, D.C., lawyer. He's an assistant to President Donald Trump and special council for the White House regarding investigations into Russian collusion.
"It's great to get out of the White House and be out here in the real world and see my family and have the opportunity to honor my father again, who, I miss everyday," Cobb said.
He remembered the first ceremony for his father's memorial. He noted the contrast.
"It feels different," he said. "I think there was a greater sense of loss last time, and perhaps a greater sense of pride this time."
The redesign and restoration of the memorial was done by a group of K-State Landscape Architecture students and faculty, and was paid for through donations of Kansas broadcasters and individuals.
"Hearing Grover Cobb's family talk was so awesome and it just makes it all worth it to see everyone here and happy everyone is," said KSU student Shelby Cooke, who was the project manager. "It makes it all worth it.
"Really looking into who Grover Cobb was and what he was about really helped to drive our design. In memorializing, we just wanted to focus on the past and making sure that we recognize that and how amazing that was, but also introducing new things to show how broadcasting always looks to the future."
Manhattan Broadcasting Company helped sponsor the memorial and retired general manager Rich Wartell, who was at the ceremony and a key contributor in the endeavor, said the project has had a wide-range of meaning.
"That was one of the things we had to keep checking, was to have that balance between honoring Grover Cobb and then of course the Kansas Association of Broadcasters, because really, it's the only memorial that exists in the state that honors Kansas broadcasters," Wartell said.
Wartell said Cobb was a key person in his life.
"I was privileged enough to actually be hired by Grover Cobb back in Washington at the National Association of Broadcasters," he said. "That's how I started my career."