The Riley County Police Department announced more leadership shifts late Tuesday afternoon.
As reported Sunday by the Manhattan Mercury, current RCPD Assistant Director John Doehling announced his retirement effective July 1. Doehling's wife, Diane, who's the communication center manager for the department, is also retiring July 1.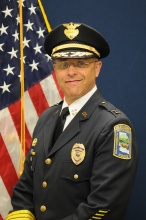 Tuesday afternoon, the RCPD announced Captain Kurt Moldrup has been promoted to the position of interim assistant director.
"I have every confidence in Kurt and his ability to do the job." Director Brad Schoen said in the department's press release. "I also appreciate his willingness to step in when needed, but those who know Kurt realize that doing so is his nature."
Moldrup most recently served as the Captain of the Jail Division. Moldrup started at RCPD as a patrol officer in March 1985. He was promoted to Captain in May 2009. During his tenure, Moldrup has risen through the ranks and served in Investigations and Internal Affairs as well as serving as a Patrol Commander, Support Division Commander, and Public Information Officer.
"I'm loyal to our community," Moldrup said. " I'm willing to serve in whatever capacity our department and the citizens of Riley County need."
Moldrup will serve as the Interim Assistant Director until the Riley County Law Board appoints a new director. Earlier this year Schoen announced he would retire in December.
The Mercury obtained an email Schoen sent Friday to department staff members about the Doehlings' retirements.
In the email, Schoen cautioned staff about rumors of "internal issues" at the department, but declined further comment to the Mercury Saturday.