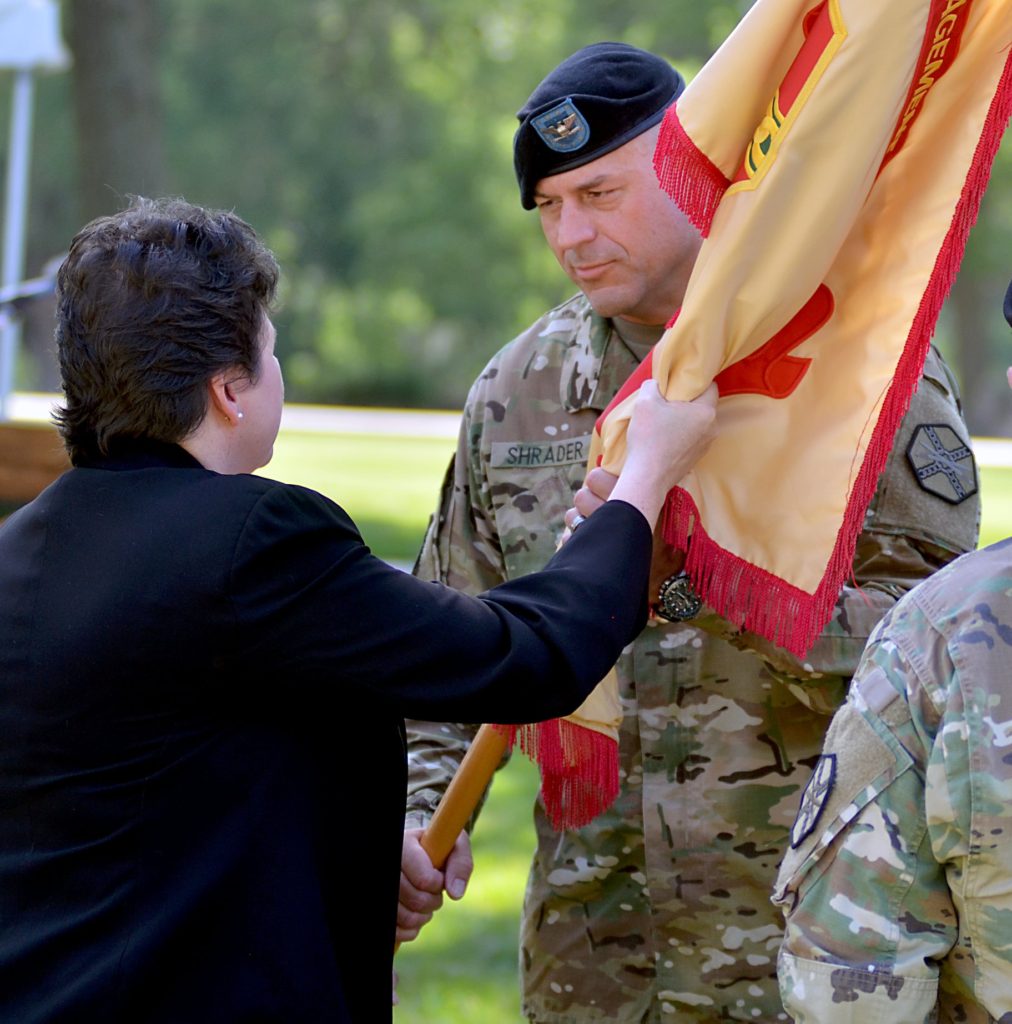 With a blast from "Old Glory," a replica 1855 model 3-inch ordinance cannon, the ceremony had officially begun.
A Change of Command ceremony held at Fort Riley on Friday welcomed in Col. Stephen Shrader as garrison commander, replacing retiring Garrison Commander Col. John Lawrence. Col. Lawrence has served in the Army for more than 34 years and had been garrison commander since 2016. Colonel Shrader has served in the Army for 23 years, most recently as Director of the Combined Joint Operations Center, Resolute Support Mission in Kabul, Afghanistan.
Maj. Gen. John Kolasheski, the commanding general of the 1st Infantry Division, said Col. Lawrence is a "truly unique officer" and praised him for his accomplishments at Fort Riley, including his coordination of an intergovernmental agreement with the City of Manhattan and the time he found a way to transfer unused housing buildings to the Kickapoo Tribe instead of demolishing them.
"Countless times John and his team have found ways to make Fort Riley better for the soldiers and their families, often at a reduced cost or no cost to the unit," Maj. Gen. Kolasheski said. "From working at the Center of Military History to renovate our museums to putting in the Adventure Park, Fort Riley is a demonstrably better installation than it was a few years ago."
He also thanked Col. Lawrence's wife, Sheila, for all of the volunteer work she did around the community. Maj. Gen. Kolasheski then turned his attention to Col. Shrader.
"Steve, it's a difficult task to improve upon excellence. Fort Riley is already the best place to live, train, deploy from, and — now I think John will attest to — and retire to," said Maj. Gen. Kolasheski. "I know that you are ready and able to make it even better, and I look forward to seeing what you can do."
Brenda Lee McCullough, the Director of IMCOM-readiness, talked of Col. Lawrence's tenure as garrison commander as "marked by transformation and innovation."
"John and the entire Fort Riley team provided exceptional support to Maj. Gen. Kolasheski [and]accomplished this while balancing the realities of an extreme resource constrained environment," McCullough said. "Col. Lawrence will tell you that the many accomplishments he achieved during his command here at Ft Riley were due to the contributions of the installation team — and in many cases that's true, we stand on the shoulders of greatness. However, it was John's leadership that was the driving force for most of that success."
McCullough described Col. Lawrence as a "visionary and no-nonsense leader" who led his team to 21 overall garrison safety awards.
"As the first non-combat arms garrison commander in 15 years, his adjutant general background in leadership ensured the garrison suffered zero civilian reductions in forced layoffs — a significant accomplishment given the number of reductions mandated by the Department of the Army," said McCullough.
"John, thanks again for a job well done. Your contributions will continue to affect Ft Riley for many years to come."
McCullough welcomed Shrader and referred to him as a proven leader who is "ideally suited to lead the Ft Riley team to support the priorities and requirements set by the senior commander Maj Gen Kolasheski and the IMCOM priorities set by Lt. Gen. Dahl."
"I know you will continue the work started by Col. Lawrence while bringing new ideas and new vision to ensure that the garrison continues to enable the readiness of soldiers working, training and living at Ft Riley while also taking care of families," McCullough said.
Col. Lawrence said the day was "bittersweet," but that "it has been an honor and a privilege to serve with such a dedicated and professional workforce."
"This team is like no other I have ever served with, comprised of 1200 civilians and only 22 military, but each working daily supporting the war-fighter and our families," said Col. Lawrence. "This team is the continuity for the division — they synchronize the efforts of 97 separate partners and they are truly the heart and soul of Ft. Riley."
He thanked his contacts with governments in the surrounding cities and counties for the support they gave him, personally and professionally.
"You were engaged, inviting and caring and your support for Ft. Riley is unsurpassed — I have never seen anything like it in my entire career," he said. "Whether it's a ceremony like today, a full-scale protection exercise like yesterday or a gathering to discuss new initiatives and partnerships, you were always there for Fort Riley."
Col. Lawrence also thanked his son, Nick, and wife, Sheila, for all of their support during his career. He then offered some well-wishes for his successor.
"After just our short time together during transition, we couldn't be happier to leave this command in your capable hands," said Col. Lawrence. "I know you will lead this garrison to new heights and to distinction."
He ended with a quote by Henry Ford, saying that "if everyone is moving forward together, then success takes care of itself."
Speaking last, Col. Shrader said he had heard a lot about Fort Riley leading up to his command.
"In the year leading up to my arrival at Fort Riley, I've been told by multiple senior leaders and senior civilians that I'm going to a special place because of the capabilities of the Ft. Riley garrison," said Col. Shrader. "After spending the past few weeks with you, I'm truly impressed by what you've accomplished and I'm excited about what we're going to accomplish over the coming years."
He also thanked Maj. Gen. Kolasheski for entrusting him with command of the garrison.
"Words are easily forgotten, so let my actions over the next coming months show that it is a responsibility that I do not take lightly for the livelihood of the soldiers and families of the Big Red One in Fort Riley depend on it," he said.
Col. Shrader thanked his wife, Tiffany, and kids, Mason and Grant, for their support. He also thanked Col. Lawrence and Sheila Lawrence for their guidance leading up to the ceremony.
"We've learned something from years of transitioning into combat theaters, that it takes more than just a couple days to get to know the next environment," Col. Shrader said. "John and Sheila, you guys have done a phenomenal job of setting Tiffany and I up for success."
Col. Shrader said he has been meeting with many community leaders and organizations over the past few weeks in preparation for his new position.
"I have to say I'm excited about the opportunities that exist between the region and Ft. Riley. I look forward to nurturing the network of relationships and partnerships that make the surrounding community and Ft. Riley great."
His last words were to the soldiers and families of Fort Riley.
"I stand committed to ensure the garrison continues to provide the best support possible," he said. "We are the Army's helm, we're proud to serve the rugged professionals and families of Ft. Riley and the soldiers of the Big Red One. All policies and procedures remain in effect. Duty first, service always."
After the ceremony, Col. Shrader talked about his experience that gave him the skills to fulfill his duties as garrison commander.
"Most of what I've done over the years is being a synchronizer and an integrator — and at the end of the day, as the garrison commander, that's what I have to do," Col. Shrader said. "There's 97 different partnerships that we have among the local community and the region with Ft. Riley — plus all of our partners on the installation itself — and it's all about integrating and synchronizing their capabilities to make a better place for the soldiers and families and community."