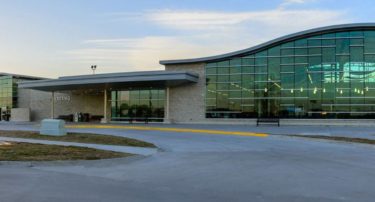 Parking lot improvements at the Manhattan Regional Airport was the central point of discussion at the Manhattan City Commission meeting Tuesday.
Airport Director Jesse Romo said they are about 60 percent done with the design process and that they currently plan to take bids on the construction in November. Romo said that the Airport Advisory Board has been supportive of implementing a parking fee of some sort to pay for the project, but a recent federal bill signed by President Trump after the board discussed supporting a fee opens up another revenue source.
Romo said that as a result of the Consolidated Appropriations Act of 2018, the Federal Aviation Administration has acquired additional funds to give grants through the Airport Improvements Program. He said that though parking improvement projects typically rank low on their radar, since the funds are supplemental the Manhattan Regional Airport might be able to submit a competitive grant request.
The grant would cover 90 percent of the project costs, leaving the remaining 10 percent to the municipality to fund. The catch is as part of the conditions of the grant, the airport could not generate any revenue from the project — meaning parking would have to remain free to the public for 20 years and they could not use fees to pay for the city's 10 percent. It also could push back the bidding process.
The city would have to submit an expressed interest form by October 31 to be considered for the grant. Romo asked that the commission consider submitting the form if only to get a better picture of the situation so they can weigh it as an option alongside implementing a parking fee.
Commissioner Wynn Butler said he was unsure about pursuing the grant due to the tax burden that 10 percent the city would have to pay would place on local residents.
"I'm not so sure I like the idea of them forcing it to be free for 20 years because we're still paying 10 percent and then we're going to cover all the maintenance on it and we're not going to be able to recoup that through fees," said Butler. "I don't know if it's worth studying an alternative like that, just a piece of it maybe that would make sense."
Mayor Pro Tempore Mike Dodson asked whether they could apply for the grant for a portion of the lot while making the remainder a pay-to-park lot. Romo said they could try, but it might affect their grant proposal's competitiveness.
Commissioner Usha Reddi said the grant is worth pursuing even if it pushes back the timeline to open bidding on the project.
"I'm not attached to a November date," Reddi said. "If that money's on the table, somebody's gonna get it. We should at least try to get some of that money — it is tax-payer money, still — and see what that process looks like."
The commission also looked deeper at the possible parking fee and if it would affect consumer behavior. Andrew Vidor of Walker Consultants said that a decrease in parking is likely, though a decrease in fliers would be very marginal at worst, though it would lead some to get dropped off instead of parking or to use a service such as Uber or Lyft to get to the airport.
Though the commission is not locked into this amount, Vidor used a $5 per day fee as a baseline. He said that such a fee would lead to a decrease in business traveller parking by 5 percent and a decrease in leisure traveller parking by 20 percent. Even with those reductions, Vidor said the revenue generated from the a $5 per day parking fee would still generate enough revenue to pay for a bond covering the construction.
Commissioner Reddi was adamantly opposed to the idea of a fee, saying she thinks the free parking is a major selling point for the airport to many fliers. She said she thinks they are underestimating how much a fee would affect parking numbers and, as a result, revenues.
"Even if it's $5 or $7, I almost think it's going to be a 50 percent decline of what we're anticipating and I don't know what that's going to bring in as far as revenue," said Reddi. "So our tax-payers are going to pick up the tab one way or another."
Commissioner Jerred McKee disagreed, saying he doesn't think the fee will cause a massive reduction in parking and revenue generated from a possible fee.
"I think free parking is a good marketing tool for us at the moment, [but]I'm not fully convinced that's why people choose to fly out of Manhattan," said McKee. "I fly a few times a year and 80 percent of the time, 90 percent of the time when I fly out of Manhattan it's because I don't want to drive two hours home."
Dodson spoke favorably of the possibility of a parking fee of some amount.
"This is one of those areas where the people who use the facility ought to pay for it and it should not go on the general tax-payer across the entire city."
Mayor Linda Morse was not overly supportive of the fee, though she said she could see supporting a $3 per day fee.
"I'm not supporting $7 parking or the higher end of that at all," said Morse. "You could probably drag me kicking and screaming down the road to $5."
Multiple commissioners said they would need more information going forward to decide between the parking fee or the federal grant options to fund the parking lot improvements and that they would like to see what an updated timeline on the project would look like if they applied for the FAA grant.