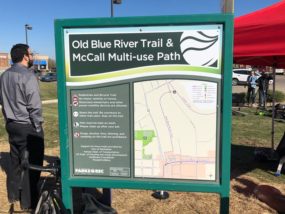 MANHATTAN — A northeast Manhattan neighborhood is a little more connected to essential services after the completion of the Old Blue River Trail.
Local officials and patrons came out for a special ribbon cutting Thursday afternoon to mark the occasion. The 0.7 mile trail located just east of Tuttle Creek Blvd. near McCall Road gives residents in the Northview area an improved walkable trail to the nearby shopping district. City Commissioner and Northview resident Jerred McKee says this will help a lot of residents lacking access to transportation.
Greater Northview Action team member Brandon Irwin has been an advocate for the project. He says the trail has made the Northview neighborhood become less isolated.
The project was 85 percent grant funded, in large part thanks to funds secured by the Sunflower Foundation: Health Care for Kansans. McKee says that's good news for Manhattan taxpayers.
Irwin adds that the trail has drastically improved from what it used to be.
Following the ribbon cutting, those who came out took to the trail on foot and on their bikes to commemorate the trail's opening.