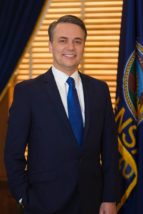 TOPEKA — Outgoing Gov. Jeff Colyer granted two final pardons Friday as well as a commuted sentence as part of his final duties as governor.
Among those receiving pardons are Chris Rickerson of Wichita. He was convicted of felony drug possession in 2006 as well as property and drug misdemeanors in 2005 and 2006. He completed his sentences and now owns and operates Elite Staffing Solutions in Wichita. The organization focuses on giving people a second chance by helping them find jobs and avoid drugs.
Wandaleen Thomas, a native of Wichita now living in Colorado was granted a pardon. After completing a drug possession conviction sentence from 1992, she began counseling individuals to help them avoid drugs and alcohol and operates a military barbershop catering to military personnel and their families.
Gov. Colyer also commuted the sentence of Emporia combat veteran Regina Carter, who was convicted of first-offense drug possession in 2016. Carter is disabled from PTSD and nearing the completion of a college degree. Her 98-month sentence will be commuted to 43 months, meaning she could be released as soon as May 2019, but will be required to have 36-months of post-release supervision, drug treatment, education and drug testing.
In addition, Gov. Colyer also denied 21 pardon applications, many of which involved multiple murders, child sex crimes, and drug crimes. In total, Colyer denied 42 pardon applications during his almost one year succeeding former governor Sam Brownback who resigned in January 2018.