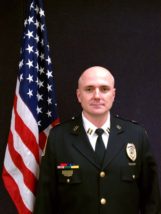 The Riley County Police Department is getting ready for this weekend's Fake Patty's Day event.
KMAN spoke with RCPD Captain Richard Fink on their preparation and tactics for the weekend.  Fink says they are using data they have collected over the years to help them for this year's celebration.  These numbers will help assign the needed number of officers to the neighborhoods and Aggieville based on historical data.  The department's main goal for the event is maintain control of the crowds in and around Aggieville.
"Each year we look at where we are having our most calls for service, what time of day, what kinds of calls, and which neighborhoods have the most calls," said Fink, " We try to predict what type of problems we will have and where they will take place."
Fink cautions those who will be throwing house parties on Saturday to pay attention to who comes in.  He says there are people who come to town during this time for the sole purpose of victimizing others. If a party gets too out of control, Fink urges people to call the department to help them break it up.
Last year the department saw the biggest number of calls for services during the celebration, but were not any busier.  The biggest takeaway Fink believes is that the community is more comfortable with calling the department for issues they are seeing.  Along with those calls, the department also saw the largest number of law enforcement related calls.
Looking at the data, some of the top arrest charges from the last four years included DUI alcohol or drug related, disorderly conduct, and unlawful possession/consumption for minors.  However, the number of arrests are down nearly to the lowest levels in the last five years.
The RCPD will not be alone on Saturday.  They will have the help of several area police departments as well as the Lawrence Police Department, Lyon County Sheriff's Department and the Kansas Wildlife, Parks, and Tourism.
Fake Patty's Day will take place on Saturday March 2nd.