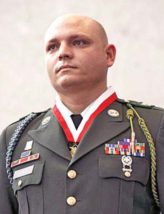 FORT RILEY — A ceremony honoring a former First Infantry Division soldier will take place Thursday morning.
Former Sgt. Robert "Mike" Debolt is receiving the Distinguished Service Cross, the second highest valor decoration awarded for extreme gallantry and risk of life in actual combat with an armed enemy force. Debolt was assigned to 2nd Battalion, 2nd Infantry Regiment, 3rd Brigade Combat Team and previously received the Silver Star for his actions in 2008 in Afghanistan. This ceremony officially upgrades that previous award.
Debolt, an Ohio native entered the U.S Army in 2007 and was deployed to Operation Enduring Freedom in 2008. After his vehicle struck an improvised explosive device and became engulfed in flames, Pvt. Debolt extracted himself and extinguished the flames covering more than half of his body. Realizing his teammates were still trapped inside the burning wreckage, and ignoring his own extensive wounds and the continued enemy small arms and rocket propelled grenade fire directed at his vehicle, he helped pull his fellow soldiers from the vehicle to safety while extinguishing their burning clothing. His actions helped save the life of one fellow soldier while helping prevent serious injury to another. He was honorably discharged from the Army Sept. 28, 2008.
Lt. General Paul E. Funk II, III Corps and Fort Hood commanding general will host the ceremony which begins at 10:30 a.m. in Victory Park at Fort Riley, next to the division headquarters.