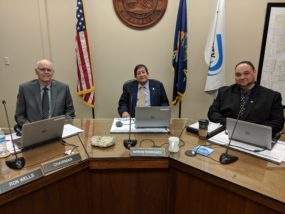 Members of the Riley City government presented a proposition to Riley County commissioners Thursday.
Riley City Mayor Tim Sharp presented the idea for the city's volunteer firefighters to use the same protocols as Riley County EMS.  Sharp says they have several volunteer firefighters who are also with the Manhattan Fire Department.  The means they have the training when it comes to responding to calls, but they cannot use it.
Councilman John King says this will be step in the right direction towards the volunteers level of training.  Hopes are this will cut down on time because the volunteers will have the patient ready when the ambulance arrives.  These protocols will allow the volunteers to help the patient when they arrive on screen.  King experienced this issue himself where it took 30 minutes after the ambulance arrived to leave towards the hospital.
Another reason for this request is the have the Riley County EMS and Riley volunteers be on the same page when they arrive on scene.  This will allow the volunteers to actually help the patient when they arrive.  It will also let the two entities work more cohesively.
Overall, commissioners liked the idea and plan to review all details. Chairman Marvin Rodriguez said they would need around 30 days before rendering a decision.
Also during the meeting, Riley County Extension Executive Director Gary Fike presented data on the recent tax return program they held earlier this year.
Fike says volunteers were able to help people file 662 tax returns.  The program is primarily for people and families with an income of less than 55 thousand dollars.   For this year, the average adjusted gross income was $22,968.  Of that group, 20% were over the age of 55, 79% were between 18 and 55, and less than 1% were under the age of 18.
47% of those who filed where male and 53% were female.  84% of the participants were caucasion, which Riley County is comprised of a population of 82% caucasion.  The number of clients this year that were African American was 7.8%, Hispanic was 6.5%, and the remaining 1.7% were Asian descent.
Fike says they have seen a growth of 41% since 2015 and 7.4% increase from last year.