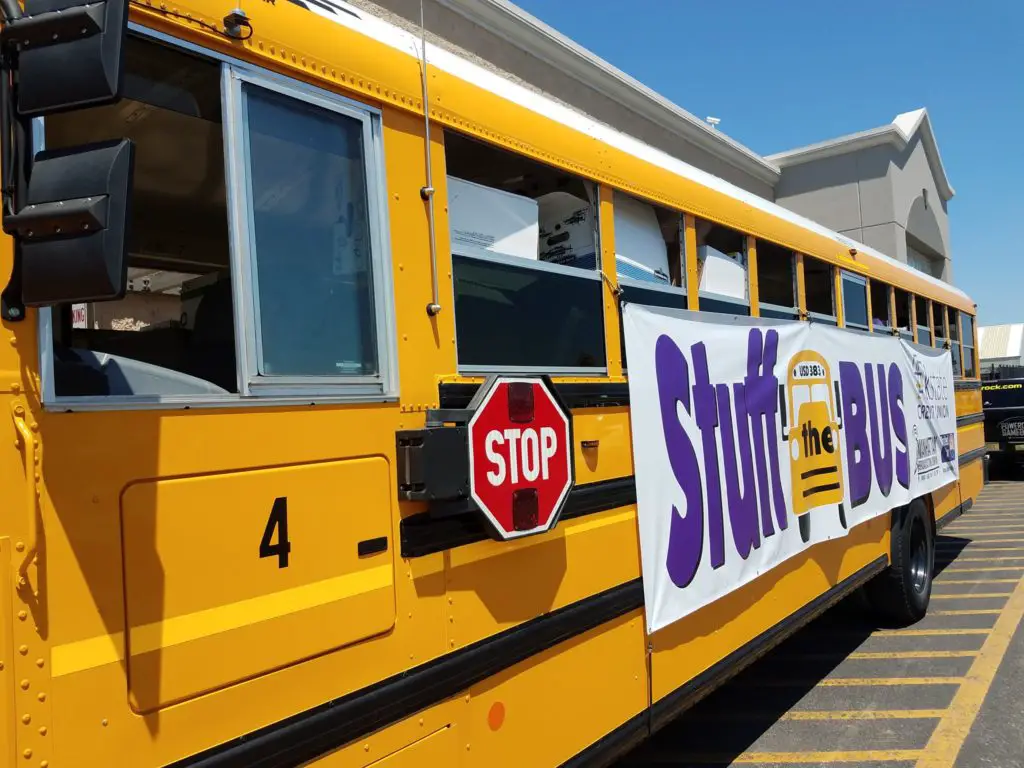 School supplies and backpacks are needed to help Stuff the Bus Saturday for the Manhattan-Ogden USD 383 FIT Closet. It will take place at the Walmart parking lot in Manhattan.
The 12th annual event aims at providing every student receiving free or reduced lunches in the Manhattan/Ogden USD 383 school district with the necessary supplies for the upcoming school year. It's a joint effort between Konza United Way, K-State Credit Union and Manhattan Broadcasting.
FIT Closet Coordinator Tracy Emery spoke with KMAN this week about the upcoming fundraiser and the some of the specific items they are looking for this year.
"One of the biggest needs we see is actually the backpacks themselves, but then the bigger-ticket items like zipper binders, 3-ring binders, scientific calculators, a packet of flash drives are also important," Emery said.
Emery says they handed out 840 backpacks with school supplies at the beginning of the 2018 school year. They hope to be able to beat that number for this year's fundraiser.
Konza United Way CEO Tara Claussen explained their role in this event.
"To gather volunteer support and raise awareness and needs for what our community looks like and where we need to focus those efforts. We are proud to be part of this event," Claussen said.
Emery said one mom in particular was extremely touched by the donation at a past event, a story she shared on KMAN's In Focus this week.
"Just visiting with her and the look of astonishment on her face and tears of extreme thankfulness and gratitude realizing there was no cost made it absolutely worth it," Emery said.
She also says the event this year is a week earlier than normal so they can have time to organize all the supplies. Each bag will be pre-filled with school supplies for students at each school in the district. The first day of school is Aug. 14.
A full list of needs is available at stuffthebusmhk.com.
Stuff the Bus volunteers will be out from 10 a.m. to 3 p.m. Saturday outside Walmart.