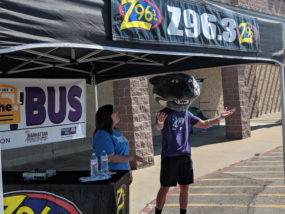 K-State Credit Union, Konza United Way, and Manhattan Broadcasting helped stuff the bus for the Manhattan-Ogden USD 383 FIT Closet over the weekend.
A school bus was parked outside of Walmart where volunteers handed out lists of school supplies the FIT closet is in need of. Those supplies will be given to students who qualify for the free and reduced lunch program at the beginning of the year.
United Way Board Member Scott Seel was one of those volunteers who says while they need some of typical supplies, there are others that people don't usually think of.  The list included the usual binders, folders, and pencils, but also included things like ear buds, tissues, and hand sanitizer.
Seel says the United Way has been involved with Stuff the Bus since its inception 12 years ago. Their role was to help provide the volunteers for the fundraiser.
Konza United Way CEO Tara Claussen says Stuff the Bus is a national effort that is supported by United Way.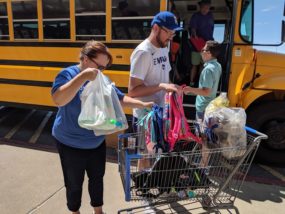 "We're grateful for K-State Credit Union's support and organization of the impact to our local students to make sure they are ready to go and have all the supplies they need to start off the school year great," said Claussen.
USD 383 Assistant Superintendent Eric Reid was happy to see all the people who were volunteering to help and those who were donating.
"It really helps a lot of our families and we get to see that first hand," says Reid, "It's amazing to see the generosity of the community and the kids and families really appreciate it."
Stuff the Bus was originally started with the credit union in coordination with Sunny 102.5 back in 2007. Sunny then became part of Manhattan Broadcasting in 2017 which then included all the stations.
Manhattan Broadcasting General Manager Corey Reeves says he's happy they have been able to continue supporting this event.
"If there is anything you can give back to, education is one of the most valuable things you can be a part of," said Reeves. "Anytime there is a chance to give a kid a way to start the school year with cool new school supplies, they are going to go in happier and healthier."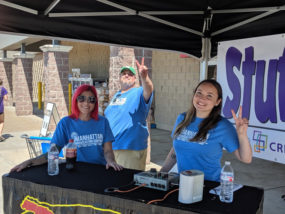 Reeves says Manhattan Broadcasting's involvement goes beyond just advertising Stuff the Bus, but brings awareness to the FIT Closet and their needs year round.
"Stuff the Bus is a little different because it's a cumulative effort.  You can have someone come in and be able to donate hundreds of dollars worth of stuff, but then you can donate something smaller that the FIT Closet still needs," says Reeves.
The goal of this year's fundraiser was to provide backpacks full of school supplies to 1,000 students at the beginning of the school year. No official numbers have been released yet, but they were able to help out 840 students last year.  News Radio KMAN will provide the numbers once they are available.
SH