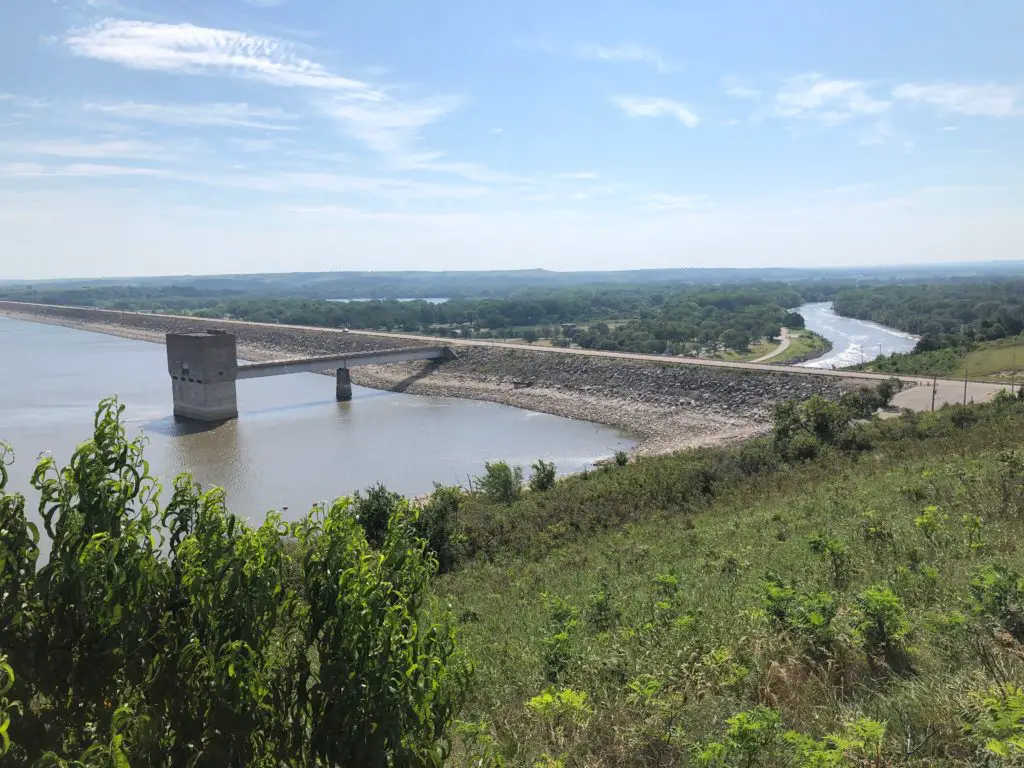 In just a matter of one month, the water levels at Tuttle Creek Reservoir have dropped significantly.
On June 26, the lake was sitting at 1,132.70 feet, with just 10 percent of flood capacity available. As of July 26, the level was at 1,117.56 and the U.S. Army Corps of Engineers had  opened up 43 percent of flood pool capacity. By Sunday the level had dropped to 1,115.77 (20 feet below its 2019 peak of 1,135.88 set May 31). It's the lowest level since April 15 when the lake was at 1,115.74. But the drop in the lake level is only part of the way to the eventual goal, says Tuttle Creek Lake Park Manager Melissa Bean with the Corps, who spoke on the KMAN Morning Show Friday.
The target level at normal pool is 1,075 feet. Outflow has been steady through the tubes at 25,000 cubic feet per second since July 19. Those levels had been steadily increasing since around Independence Day. Those outflows are slowly being reduced over the next week down to 8,000 cfs with significant flooding still occurring downstream along the Missouri River. Bean says structurally, everything surrounding the tubes has been performing well.
The outflow was 25,000 cfs on Friday, but by Sunday night the releases through the tubes had been reduced to 15,000 cfs. Bean says they appreciate the public's concern for the lake levels and stresses they're not quite to the finish line yet.
While drier weather has certainly kept things stable on the reservoir and in areas downstream, conditions are constantly being monitored to the north as that water flows directly into the Tuttle Creek basin.
Inflow to the lake was 6,000 cfs Sunday night. Outflow levels will be reduced down to 8,000 cfs by later this week. The USGS Waverly, Missouri gage was at 164,000 cfs Sunday night. The threshold for releases is 180,000 cfs.
All boat ramps along the lake remain submerged and are inaccessible. Those who have been boating are presumed to have docked at the marina or launching off of county roads, which is not advocated by Corps officials because it causes traffic concerns and boating hazards with debris still in the water.