The Manhattan-Ogden USD 383 board of education approved their 2019-20 budget for publication on Wednesday.
The board held a special meeting to give them enough time approve the budget, send it to publication, and then hold the public hearing.  The budget will be out in publication on Friday.
The projected mill levy is 62.12 mills, a 5.33 increase from last year. The increase is due to the recent bond passage last fall, which was projected to raise the mill levy 7.77 mills. Without the bond, the mill levy would have actually decreased 2.45 mills.  The original projection in the bond campaign was 7.79 mills.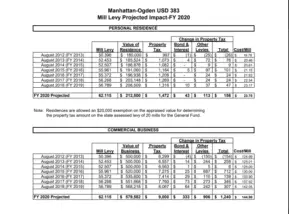 Director of Business Services Lew Faust says for property owners, the latest valuation for the district is $212,500 hundred.  The effect the mill levy will have on property owners is total property tax of $9,000. This equates to a $156 increase at $23.70 for each mill.  For commercial businesses valued at $580,000
, the total property tax of $9,000 will increase $1,240. 
One of the major figures Faust presented was the total expenditures.  For the budget year, the district is budgeted at $106.78 million.  However, Faust says they will not spend all this money.  This is to have money in the budget authority in case they need it.  If the money is not available, then they cannot spend it.  The actual expenditures will be closer to $101 million.
Looking at the capital outlay cash flow, Faust says the district will start out the year with a little over $8 million.  The district is projecting an $8.8 million unencumbered cash balance at the end of the fiscal year.  They are setting aside money for middle school roof replacements, turf replacement at Bishop Stadium, and general expenses for the upcoming new elementary school.
The board was satisfied overall with the budget.  Board Member Dave Colburn reiterated that they additional money they will be receiving from the state will be going directly to the classrooms.  Some of that will go to the at risk program, while some will go to hire additional staff.  The board does not expect to fill all the new positions by the start of the school year, but hope to hire more staff as the year goes on.
The public hearing on the budget will be held on August 7 at 6:25 p.m.