We continue our KMAN News Series "From the Principal's Office" today highlighting the preschools in Manhattan/Ogden Schools. For this edition, we speak with Teri Bailey-Johnson at Eugene Field Preschool.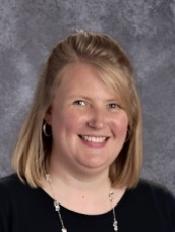 Teri Bailey-Johnson - Eugene Field BP
The first day of school can be a lot to take in for children, especially if they're heading off to preschool.
But a focus on early learning district wide in Manhattan/Ogden Schools has made the transition a little less of a burden on the youngsters who will step into both Eugene Field and College Hill this fall. Eugene Field Preschool Principal Teri Bailey-Johnson is in her 17th year in education, having been an early childhood special education teacher in Holton for 13 years and now with the Manhattan/Ogden School District for three years.
"My heart is in early learning and it's great to be part of this early learning community in Manhattan where our entire focus in on those kids aged 3 to 5 and their families," Bailey-Johnson said.
Bailey-Johnson says USD 383 is laying the groundwork for other Kansas school districts creating an early learning community model by taking labels off of kids for funding purposes.
"We don't have kids set in classrooms according to what their funding sources are or how they qualify for the program. I think Manhattan is on the leading edge of this. It's exciting for anybody in early childhood education to be able to focus on the kids and work away from the administrative side of why programs are funded and how," she said.
The start of the year is an exciting time for Bailey-Johnson to connect with parents and teachers alike, noting relationships are essential.
"Because we're setting the foundation for their experiences in school in general. This is often times the first connection families have with the school setting. I take great pride in being able to establish a really good foundation and relationship for their success at USD 383," Bailey-Johnson said.
There are some new faces on the staff as well. Bailey-Johnson says they try to make the transition into the early learning program as seamless as possible.
"We provide individualized training on what our needs at the early learning level are for our curriculum, our best practices, our social emotional curriculum structures. We just want to make sure when we send people into the classroom they feel as confident and are as well prepared as possible," she said.
While the first day of classes is Wednesday for most of the district, the first day for Eugene Field and College Hill Preschool is August 20.