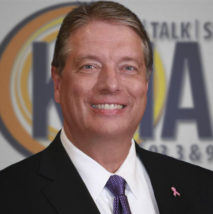 A familiar voice in Manhattan is being honored for his career in broadcasting.
Dave Lewis, longtime Program Director for News Radio KMAN and a staple of the Manhattan community since 1991 will enter the Kansas Association of Broadcasters Hall of Fame later this year. Lewis was nominated by former Manhattan Broadcasting GM Rich Wartell, a 2005 inductee, who touted Lewis' commitment to local issues.
Wartell says in addition to being the voice of Manhattan, Lewis has dabbled in a number of charitable events in the community.
Those include the Flint Hills Breadbasket, which he co-founded with the late Shirley Bramhall and founded the Polyester Party to support the K-State Johnson Cancer Research Center, to celebrate the life of his late wife Elena, who died of breast cancer in 2006. Lewis says being inducted into the Kansas Association of Broadcasters Hall of Fame is an honor.
Lewis has spent 19 years in two stints with Manhattan Broadcasting Company. During his tenure, he was on the air when KMAN went round-the-clock covering the flood of 1993 and the opening of the Tuttle Creek Reservoir spillway. He also was part of KMAN's team along with former News Director Ken Scott when they broke the news that Timothy McVeigh had rented the the truck used in the 1995 Oklahoma City bombing. That truck was rented in the Manhattan area.
Lewis began his career with KNCK/KCKS in Concordia in 1979. He's the public address announcer for Kansas State Wildcat football and men's basketball.
Past inductees into the KAB Hall of Fame include Royals broadcasters Denny Matthews and Fred White, Chiefs broadcaster and K-State alum Mitch Holthus and former Kansas Gov. Alf Landon.
Lewis will be inducted October 20 at the annual KAB Awards Ceremony alongside longtime Salina broadcaster Rick Mach.