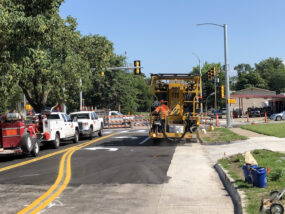 Don't expect the construction zones across Manhattan to ease up much before the end of the month.
On KMAN's In Focus this week, Manhattan City Manager Ron Fehr updated the progress made so far by Public Works crews on a variety of projects. Weather has delayed some of that progress on multiple projects. Fehr says they had hoped to get most of the work completed by the time classes begin at Kansas State University.
"We're anticipating Kimball west of Hudson should be open to two-lane traffic by the first football game and we hope to have Kimball east of Seth Child open fully by the end of August," Fehr said.
Traffic is open to two lanes on Kimball east of Seth Child between Kenmore and Browning, according to Fehr. That project, he says is anticipating a full reopening by the end of the month despite some delays.
"We did discover an old corrugated metal culvert that's collapsed at the Browning intersection in the work there," Fehr said.
This will cause a full one-day closure of Kimball Ave. at the Browning intersection Saturday from 7 a.m. to 7 p.m. before they can continue with the project.
Fehr also says that the bulk of work at Kimball and North Manhattan should be wrapping up soon. There is a portion of the Manhattan Ave. construction project that will continue to be delayed, likely extending through October.
"That traffic is going to have to find alternate routes on Denison and College and come in from the west or Bluemont and come in from the east. People should expect to allow more time to get to their destination," Fehr said.
That's especially true for students who may be trying to navigate through construction to get to their classes this fall.
The City of Manhattan this week also announced that a new pedestrian HAWK signal will be installed at the corner of College Ave. and Dickens Ave. to assist pedestrian traffic crossing College Ave. It's anticipated the project will be completed in September to October. Dickens will be closed during some portions of that project. College Ave. will be reduced to two lanes, but will remain open during the work.