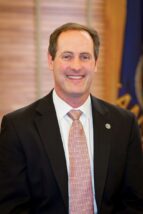 Former Lt. Governor Tracey Mann announced Monday his candidacy for Congress in Kansas' First District.
The announcement comes just days after incumbent Roger Marshall announced plans to run for Senate in 2020. Mann said in a release that America needs leadership that will support the Trump administration, opposing government-run health care, higher taxes, restricting religion freedom and eroding the Second Amendment.
Mann says his platform will include being a voice for Kansas agriculture in Washington and supports President Trump's efforts to build a border wall at the southern border and curb illegal immigration.
Mann served as the 50th Lt. Governor of Kansas when former Governor Jeff Colyer was elevated to the role of governor following the resignation of Sam Brownback in 2018. He's also a graduate of Kansas State University and resides in Salina.